Kalonji Bhindi (stuffed Okra With Indian Spices)
Kalonji Bhindi or stuffed bhindi is a common side dish in Northern India. It is usually served with Rice and dal for lunch. It does not have any garlic and onion and can be stored in refrigerator for a week but always warm it before serving.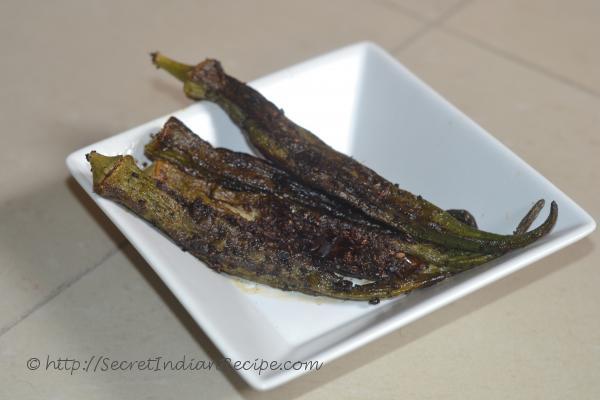 Ingredients:
Bhindi (lady's finger) - 250 grams
Saunf (fennel seeds) - 1 tablespoon
Methi ( fenugreek seeds) - 1/2 tablespoon
Kala jeera ( nigella seeds) -1/4 tablespoon
Red chilli - 2 pieces
Khatai / dry mango powder - 1 tablespoon
Salt - 1/4 tablespoon
Mustard oil - 4 tablespoon
Directions:
Wash the bhindi and cut its ends. Take a sharp knife and make a cut from one side to fill the stuffing.
Heat a tawa and roast fennel seeds, fenugreek seeds, kala zeera and red chilli for 1 minute.
Grind the masala into powder. Mix salt and khatai to prepare the stuffing masala.
Take each bhindi and fill the stuffing.
Heat oil in a pan and carefully place the stuffed bhindi.
Cook on low heat till the bhindi is done and the colour changes to light brown.
Flip all the bhindis and cook on both sides
Serve it with Rice and Dal.
Footnotes:
You can replace khatai or dry mango powder with lemon juice or any pickle pulp