Kamalkakdi Ki Sabzi (lotus Stem Stir Fry)
Kamalkakdi (lotus stem) is a very good source of iron and plant fibre. It is one of the versatile vegetable like potato, which can be stir fried, it can be cooked with spices or can be fried as chips. It is found across the world and is popular in Kashmiri dishes. Here is the most simplest way of cooking it.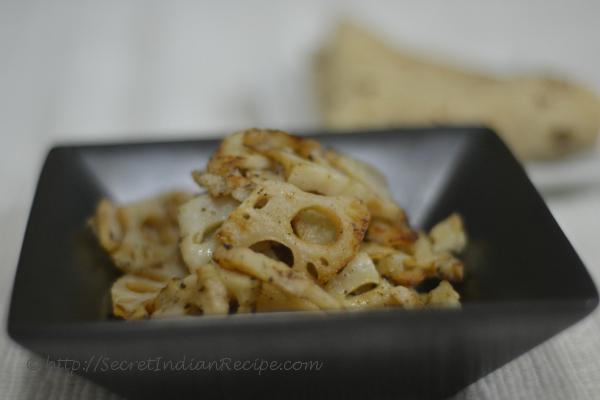 Ingredients:
kamalkakdi (Lotus stem) - 250 grams
Ghee - 2 tablespoon
Black pepper powder - 1/4 tablespoon
Salt - 1/4 tablespoon
Directions:
Peel the kamalkakdi and chop in thin slices.
Keep it in water to avoid discoloration.
bowl some water and pour the kamalkakdi. Blanch for few seconds and then remove.
Heat ghee in a pan and add the kamalkakdi. Add salt and cook on low flame for 10 minutes.
When it is almost done, add black pepper powder and put the gas off.
Serve immediately
Footnotes:
The kamalkakdi should not be overcooked.