Kanchipuram Idli ( Spicy Idli)
Kanchipuram Idli is a very popular South Indian idli seasoned with pepper, cumin seeds etc. I prepare Kanchipuram idli when we are bored with the regular idlis. It has a different taste as it is seasoned with many ingredients like pepper, jeera, ginger etc. It is very delicious and is also very easy to prepare. It can be had for breakfast or for dinner. My mom taught me how to make this.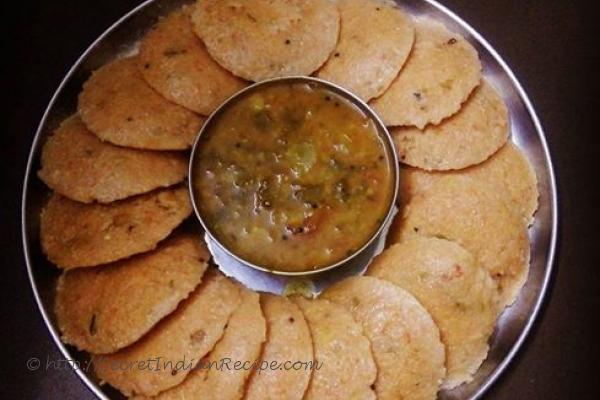 Ingredients:
Raw rice (sona masoori) - 1 cup
Idli rice - 1 cup
Urad dal (White, whole) - 3/4 cup
Fenugreek seeds / methi seeds/ vendhayam - 1 tsp
Salt - As needed
Ghee - 2 tblsp
Black pepper, whole or crushed coarsely - 1 tblsp
Jeera(Cumin) - 1 tblsp
Cashew nuts (Optional) - Few
Curry leaves - 1 sprig
Asafoetida - 2 pinches
Dry ginger powder (Sukku) - 2 pinches
Directions:
Soak urad dal & methi seeds, rice and salt as we soak like for the regular idli for 3 hours.
You can soak together and grind too, or soak separately and then grind I have tried both ways, but I prefer soaking separately and grinding separately as I do for the regular idli and then mixing all together.
This way it comes out really good with full flavor. If you are comfortable soaking together and grinding, then you can do so, but the texture comes a bit denser than grinding separately.
Once the grains are soaked for 3 hours, grind them coarsely.
Heat a small kadhai and temper Pepper, jeera, cashewnuts, curry leaves, hing & dry ginger in ghee for a quick min and add to the batter
Prepare the idli molds and Steam for 15 – 20 mins
YUMMY KANCHIPURAM IDLI READY....
Footnotes:
You can add vegetables like carrot beans peas ..its your choice