Kande Ki Sabji (onion Sabji)
Kande ki sabji is a rajasthani side dish recipe where onions are cooked in a spicy yogurt gravy. #RegionalUnknownRecipe contest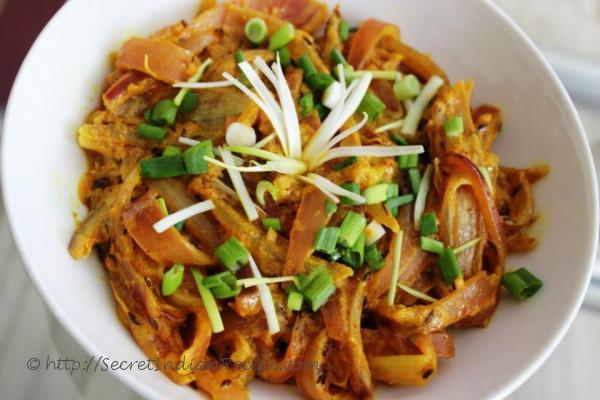 Ingredients:
Onions – 2 Large (Sliced)
Oil -2 tbsp
Ghee (Clarified Butter) – 1 tbsp
Cumin Seeds – 1 tsp
Ginger – 1/2 tsp , finely grounded
Garlic – 1/2 tsp, finely grounded
Yogurt – 1/4 cup
Water – 1/2 cup
Green Chilles – to taste (chopped)
Coriander Powder – 1 tsp
Turmeric Powder – 1/2 tsp
Red Chili Powder – to taste
Salt – to taste
Chopped Spring Onions - Few (for garnishing-optional)
Directions:
In a bowl, mix yogurt with 1/4 cup of water. There should be no lumps.
Add coriander powder, turmeric powder, red chili powder & salt to the yogurt/water mix. Mix well and add the remaining water( 3/4 cup of water)
In a pan, heat oil and Ghee.
Once the oil is hot, add in the cumin seeds and allow them to sizzle
Add ginger, garlic and green chillies and cook till the ginger and garlic get a little color.
Keep mixing and stirring till the oil floats on top of the mixture
Add in the sliced onions and mix well. cook till the onions start to brown. Add the yoghurt mixture.
Increase the flame to a medium high and allow the onions to cook till the moisture has been absorbed.
Transfer the dish into the serving bowl and garnish with the chopping spring onions.
Serve hot with chapatis or naan.