Kande Murmure
Traditionally this dish is made with flattened rice[pohe] but when I tried this with puffed rice [murmure] I found it better as it is very soft and quickly melts in mouth. Try this to make a difference in your age old recipe with your evening tea...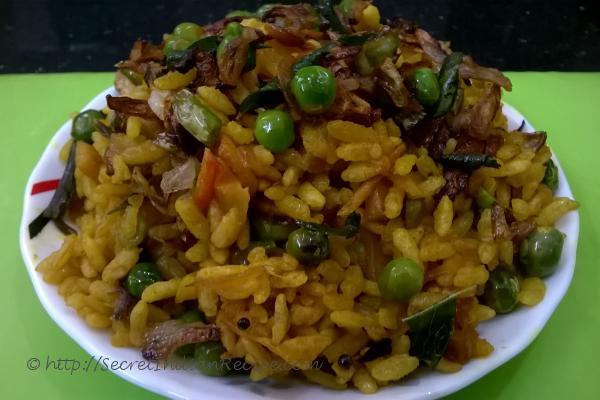 Ingredients:
Murmure 2 cups
Green Peas 1/4 cup
Peanuts 2 tbsp
Potato medium size 1
Onion sliced lengthwise medium size 2
Tomato Finally chopped 1
Ginger Finally Chopped 1/2 tsp
Green Chilli Finally chopped as per taste
Curry Leaves 20-25
Black Mustard seeds 1/2 tsp
Vegetable Oil 1 tbsp
Turmeric Powder 1/4 tsp
Salt to taste.
Directions:
Dry roast peanuts. Heat a wok .Put vegetable oil and add mustard seeds with curry leaves. Once they stop crackling add chili and ginger . Cook for 1 min and add onions. Cook until onions are golden brown.
Now add tomato, peas, potato & peanut. Put some salt along with turmeric powder & cook covered untill potatoes and peas are done. Stir occasionally.
Take puffed rice in a sieve and wash just for 30 sec in running water taking care that it should not become mushy . Add it immediately to the sauce cooked in step 2. Cook on a high flame for 2-3 min. Stir in between and it is done. Serve hot.
Footnotes:
Adjust salt after adding murmure to sauce. You can add more vegetables of your choice like carrot and cauliflower