Kande Pohe (a Flattened Rice Snack)
Pohe or Kande Pohe is a typical Maharashtrian preparation. Poha is prepared in various way all over India, but this recipe is a traditional Maharashtrian recipe of Kande Pohe. There are three versions of Maharashtrian Pohe, Kande Pohe, Batate Pohe and Dadpe Pohe. Batate Pohe is similar to Kande pohe it is made with thick flattened rice with Potatoes in it while Dadpe Pohe is prepared with thin flatten rice.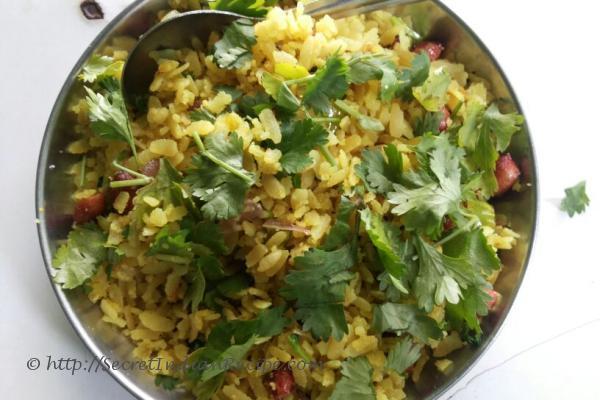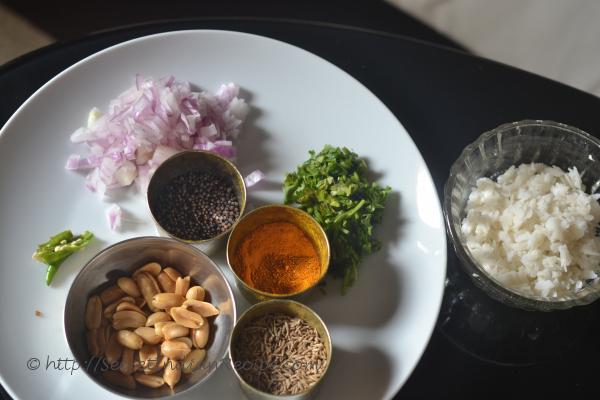 Ingredients:
2 Cups Thick Pohe (Flattened rice)
3 Onions Finely Chopped
2 Green chilies Slit
1/4 Tsp Grated Ginger
2 Tbsp of Raw Peanuts
3- 4Tbsp Finely chopped Coriander
3 Tbsp Grated fresh coconut
1 Tsp Mustard Seeds (Rai)
1 Tsp Cumin Seeds (Jeera)
10 Curry Leaves
1/2 Tsp Asafoetida
2 Tbsp Oil
1 Tsp Turmeric Powder
1/2 Tsp Sugar
Salt to Taste
Juice of Half a Lime
Directions:
Rinse and clean poha 2 times. Drain all water and make sure no water remians. Cover and set aside.
In a wok or Kadhai, heat oil, add mustard seeds, Cumin seeds when they start to splutter add raw peanuts (optional), let the peanuts cook till they turn slight brown. Now add curry leaves, chilies and stir once.
Add in the onions, grated ginger and mix well, add hing, turmeric and mix again. Let the onions cook till slightly brown and soft. Add in the washed poha, salt, sugar and mix well.
Cover and let it cook for 5 minutes on low heat.
Remove cover mix well, add coriander leaves, squeeze juice of half a lime and add coconut give it a good mix
Turn off the heat and cover the poha. Keep it covered for 2 to 3 minutes. (This helps the poha to fluff up) - This is a very important step.
Serve hot with tea.
Footnotes:
You may also add a tsp of grated ginger with the chilies
Make sure you use thick poha for this recipe