Kanyachi Bhakri ( Spicy Semolina Pancake)
Kanyachi Bhakri is a traditional goan recipe. This recipe is very simple and easy to make and does not require many ingredients. This recipe is good for breakfast and snacks. #PowerBreakfast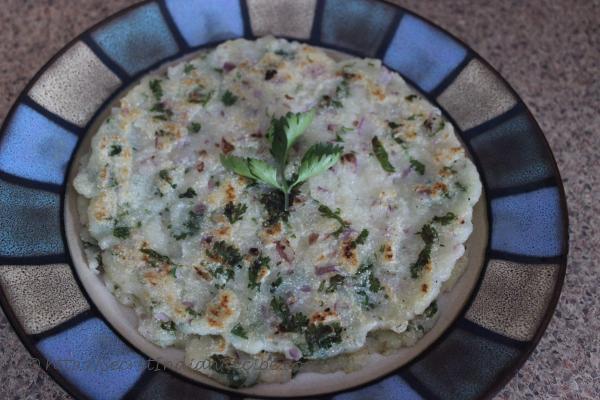 Ingredients:
1 Cup, Semolina (sooji)
2 Green Chillies (finely chopped)
3 tbsp, Coriander Leaves (finely chopped)
1 ½ tsbp, Coconut (grated)
½ tsp, crushed Jaggery
Salt to taste
1 Onion, finely chopped
½ tsp, Turmeric Powder (optional, although I have not added)
Ghee
Directions:
In a mixing bowl soak semolina in enough water so that it just cover the level of semolina for 30-40 minutes.
Now add green chillies, coriander leaves, coconut, jaggery, salt, onion, turmeric powder in the soaked semolina. Mix well. It should not be watery.
Heat non-sticky pan and drop some ghee over it.
Now spread the mixture over the pan and cover the pan and cook it on low flame. Drizzle more ghee, if required.
Now turn it and cook from the other side too until crisp from both sides and serve hot with chutney or any sabzi.