Kapoor Kund
lauki grated in long strands and cooked in sugar syrup, coated with Boora ( powdered sugar) and flavoured with Rose water .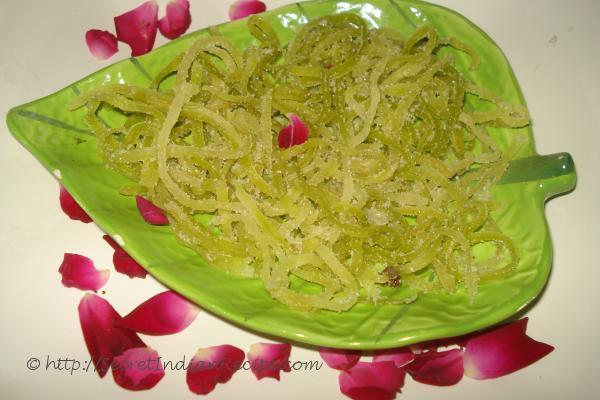 Ingredients:
1 medium sized white Pumpkin(lauki)
¾ cup Sugar
½ cup boora (powdered sugar)
1/2tsp Rose water
fresh Rose Petals to garnish
Directions:
Peal pumpkin (Lauki) and then make Lachcha with the small grater in long juliennes .
Boil half cup of water in a pan then add sugar and the Lachcha in the pan and heat it at slow flame.
After ten minutes the lachcha will become almost transparent due effect of sugar syrup.
It could be filtered for drying. .
Let the Lachcha cool down and then mix Sugar Bura with the Lachcha so that all the threads are separated.
Spray rose water on it for flavor.
Decorate with fresh rose petals.
Footnotes:
can be stored and used as falooda over kulfi.