Kappa Meen Curry (tapioca With Fish Curry)
This is a very nostalgic recipe for us Syrian Christians. We rank this above biryani. It is perhaps because most of us who hail from Kottayam side have cherished having this with our relatives on a Sunday morning or afternoon. And this has been our staple diet for years. To think of it, the love for tapioca is quite an acquired taste. Unlike potato which is common to all cuisines in India, Tapioca is consumed in very few regions, in India. I know many friends from Tamil Nadu and Karnataka who have tapioca boiled with a chutney. But for us Keralites, we celebrate tapioca, we have it with fish and every meat.
So basically tapioca is had in mashed form with a side dish like chutney or fish curry. It is otherwise had just boiled with chutney and finally it is had a one pot meal with meat (Refer- http://secretindianrecipe.com/recipe/kappa-biryani-tapioca-biryani for tapioca-meat preparation). No amount of praises can give you the feel of what I have to say maybe you need to have it once to know what I mean and as I said it is an acquired taste- a cultivated habit to enjoy one's tapioca. I hope you will one day.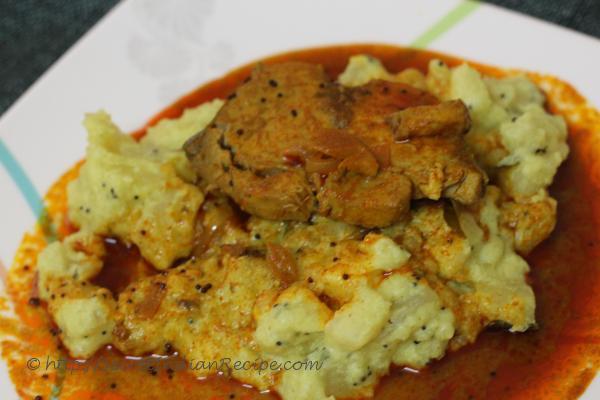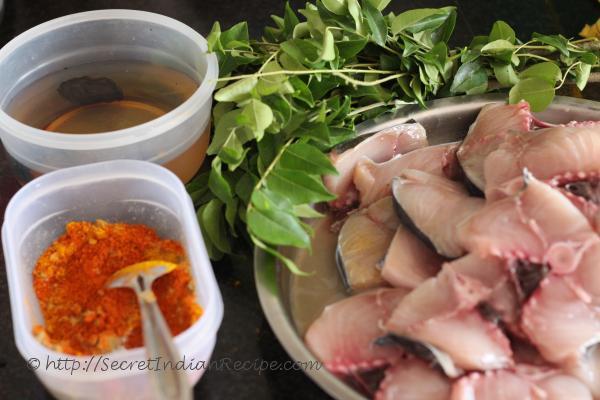 Ingredients:
Tapioca- 3 kg
Coconut- 1 cup grate
Cumin seeds- 1 tsp
Garlic- 6-8 cloves
Turmeric powder- 1/2 tsp
Salt- to taste
Green chilies- 3
Mustard seeds- 1/2 tsp
Curry leaves- 2 sprigs
Fish- 500 g
Onion- 2
Ginger- 1 inch piece
Garlic- 7 cloves
Kudampulli- 4
Water- 3 cups
Chili powder- 2 tbsp
Turmeric powder- 1 tsp
Coriander powder- 2 tbsp
Kashmiri chili powder- 2 tsp
Fenugreek powder- 1/4 tsp
Coconut Oil- 2 tsp+ 4 tsp
Curry leaves- 2 sprig
Salt- 1 tsp
Directions:
This recipe is in two parts the first is the cooking of the tapioca. For this we need to first clean the tapioca by removing the scales and cutting them into medium size pieces.
Boil the tapioca in a vessel with 4 cups of water and a pinch of salt. Meanwhile grind the grated coconut with green chilies, garlic, cumin seeds and turmeric powder. Use 3-4 tbsp water to grind the coconut.
Add the ground paste to the tapioca once the tapioca is well cooked, you may mash it if you like the tapioca mashed, I prefer it as bite size pieces. Cook the tapioca with the ground paste for 5-10 minutes so that the paste gets infused into the tapioca.
Now is the part where you temper the tapioca and for this heat 2 tsp oil in a pan and add the mustard seeds and curry leaves. When the mustard splutters add the tempering to the tapioca.
Give the tapioca a final stir and take it off the stove.
For the fish curry soak the kudampuli in a bowl with 1/4 cup water and a pinch of salt. In a pan, preferably terracotta pan, heat 4 tsp oil.
Saute chopped onion, garlic, ginger, green chilies and curry leaves till the onions brown. Add the chili, kashmiri chili, turmeric,coriander and fenugreek powder after this.
Saute the powders for 3 minutes over low flame. Now add the tamarind along with the water it was soaked in and add 3 cups of water.
Bring the gravy to boil and add salt. When the gravy starts boiling drop the fish pieces one by one. Do not stir using a spatula the fish tends to break if you do this.
Gently lift the pan once all the fish pieces have been dropped and give the pan a gentle shake. Place the pan back on fire and cook the fish over low flame for 10- 15 minutes.
The fish I used was white tuna and it cooks very fast. Switch of the stove after 15 minutes from dropping the fish after checking the salt and tanginess of the curry.
Let the curry rest for sometime preferably half a day before serving it. For this reason we prepare the fish curry a day ahead.
Footnotes:
Kudampuli is a type of tamarind used by Malayalees for seafood preparation. It is similar to cocum a different kind of tamarind used in the Konkan region in India.