Kappa Mezhukupuratti ( Tapioca Stir Fry)
I still remember the good old days when my grandparents cultivated tapioca in our backyard in their leisure time. As it was a home grown vegetable, it used to be included in our daily meal. This recipe is my favorite as it goes nice as a side dish with rice and I also love it for the reason I take it like a snack for my tea. This recipe is actually a delicacy for all the tapioca lovers of Kerala.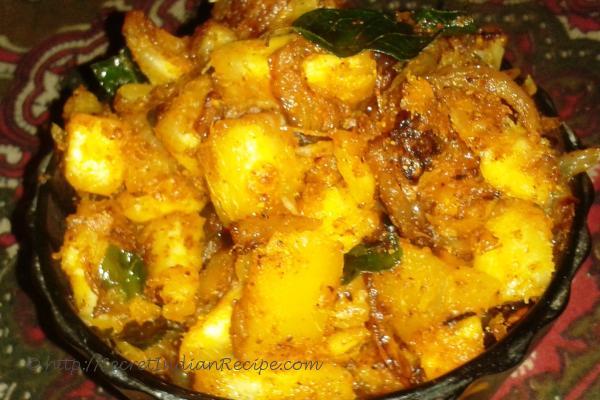 Ingredients:
Tapioca - 250 grams.
Turmeric powder - a pinch.
Chilli powder - 1 teaspoon.
Salt - as you need.
Coconut oil - 3 tablespoons.
Onion, sliced - 1 small.
Small onion, crushed - 3 nos.
Curry leaves-2 sprigs.
Directions:
Peel of the skin of the tapioca.
Switch on the stove and place a steamer on the stove.
Cook it in a steamer for about 15 minutes in the steamer.
Then in a frying pan add oil.
Sauté the onion and curry leaves in the oil till it is crispy and the onion turns a golden brown colour.
Add the chilli powder and turmeric powder into the onion and sauté it till the raw taste of chilli powder is gone.
Add salt, if needed.
Finally add the cooked tapioca into it and fry it for about 5 minutes.
Tapioca stir fry is ready to serve.