Kappa Puzhuku (mashed Tapioca)
A typical breakfast in agrarian families often had with spicy chili chutney or fish curry. An alternate version of this recipe is mashing tapioca with other tubers. Also an ideal dinner or lunch for winters. These days my 7 month old has begun liking this so I guess it can be an ideal baby food too.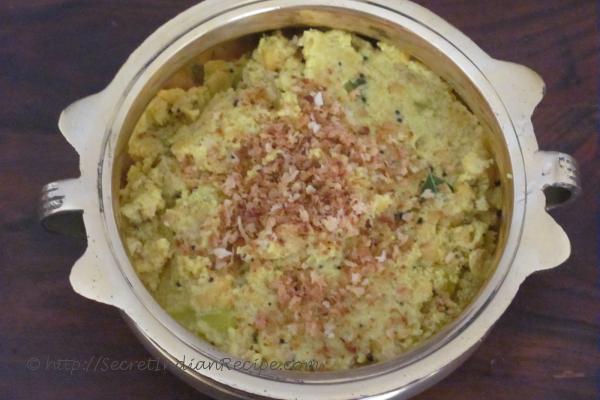 Ingredients:
Tapioca- 500 gm
Garlic- 6 pods
Cumin seeds- 1/2 tsp
Grated coconut- 1/2 cup
Curry leaves- 1 sprig
Coconut oil- 3 tbsp
Mustard seeds- 1 tsp
Green chilies- 4
Turmeric powder- 1/4 tsp
Salt- to taste
Directions:
Clean the tapioca by removing scales. Chop them roughly and boil the tapioca with some turmeric and salt.
Mash the tapioca. Meanwhile grind the coconut, chilies, garlic and cumin in a grinder.
Add this paste to the mashed tapioca and cook for 15 minutes.
Heat some oil in a pan and add the mustard seeds and curry leaves.Once the seeds splutter add it to the tapioca.
Add some roasted grated coconut before serving.
If you don't like coconut just grind cumin and garlic and prepare the dish the same way.
Serve with some spicy fish curry or chutney.
Footnotes:
Adding roasted coconut is optional.