Kappa Puzhungiyathu And Kanthari Mulaku Chammanthi (boiled Tapioca With Bird's Eye Chilli Or Green Chilli Chammandi)
More taste and less work. This is the most popular and timeless dish from the kitchen of Kerala. This is a very old authentic traditional dish of Kerala. The famous combo of this recipe is the kandari mulaku (bird's eye chilli) chammandi. It is a mouth-watering quick recipe that tickles the taste buds.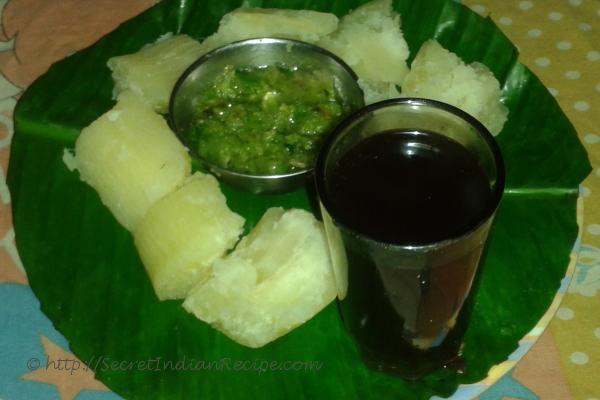 Ingredients:
Tapioca-2kg
Water- to boil
Salt-as you need
Turmeric powder-1 pinch (optional)
Small onion-5nos
Bird's eye chilli or green chilli-5nos
Curry leaves-3
Coconut oil-3 tablespoon
Salt-as you need
Directions:
First clean the tapioca, peel its skin and cut it into 4 or 5 long round pieces.
Pour enough water to the tapioca so that all the pieces are immersed in the water.
Place it on the gas stove and switch on the stove.
When the water boils, drain it out and fill it again with the same amount of water.
Then add salt and turmeric powder (optional) to it and cook for 10-15 minutes or till it turns soft and tender.
For kandarimulaku chammandi.
Grind small onion, bird's eye chilli or green chilli and curry leaves in a food processor or mixer grinder.
Then add salt and coconut oil and mix well.
Serve it immediately.
Footnotes:
It can be used as a breakfast recipe or a teatime recipe or as a dinner recipe.
Chammandi tastes best when kandari mulaku or bird's eye chilli is used.
Tapioca is first blanched and then boiled to remove its strong taste.