Kappa Vara/ Kappa Varuthathu (tapioca Chips)
I think this is the perfect time to share with you the chips recipe of Kerala cuisine since it is the Onam season when all the Keralites prepare different types of chips for the traditional Onam sadhya. So here comes the recipe of kappa vara or tapioca chips from the kitchen treasure of Kerala.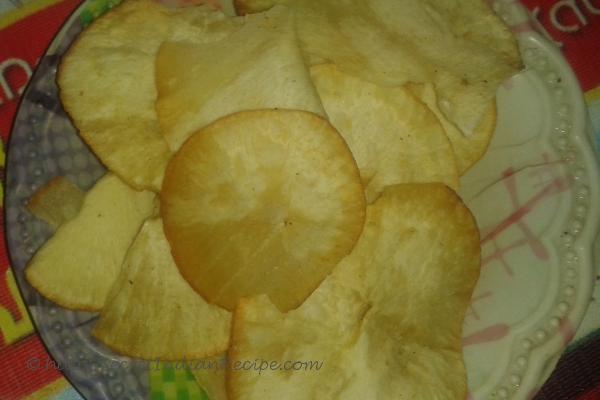 Ingredients:
Kappa or Tapioca-2 big
Oil –To deep fry
Salt-as you need
Water -4 or 5 tablespoon
Directions:
Mix salt and water and keep it aside.
Peel off the outer cover of the tapioca.
Cut the kappa or tapioca into small round thin pieces. This can be done using a slicer.
Place a thick bottomed pan on the stove and switch on the stove.
Add oil to it.
When the oil is heated up, add the tapioca pieces to it and fry it until all the water content in it is evaporated.
Stir continuously.
Reduce the flame and drain the excess oil. Now add salt mixed in water into it.
Again, allow all the water to evaporate.
Then take it out on a plate
Soak the excess oil with a tissue paper.
Tapioca chips are ready.
Footnotes:
It can be used as a teatime snack or as a starter in vegetarian meals.