Kappalandi Mittai (peanut Toffee Or Candy)
Last day, my husband was talking about buying kappalandi mittai for my daughter who is the lover of sweets. Then I got the idea of making it in my home with the directions given to me by mother who used to prepare it for me in my childhood days. This simple and healthy sweet is for all the sweet -lovers of the world from the kitchen treasures of India.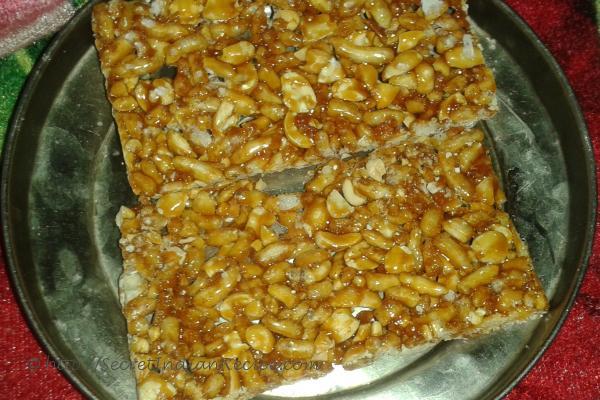 Ingredients:
Roasted peanuts (without skin and gently crushed) -1 cup.
Sugar-1/2 cup.
Butter -2 tablespoons.
Directions:
Put a pan on the stove and switch on the stove.
Add sugar and butter to the pan.
Stir continuously until the sugar is caramelized and reaches golden-brown syrup.
This should be done on a low flame.
When the sugar reaches the required consistency, turn off the flame.
Add to it the already roasted peanuts.
Stir continuously until all the peanuts are coated with sugar syrup.
Then spread it in a greased tray or butter paper as thinly as possible.
Allow it to cool.
Before completely cooling the kappalandi mitai, gently cut it into desired shape.
After cooling completely you can use it and store it in an airtight container.
Footnotes:
You can replace sugar with jaggery and can use cardamom powder if you want.