Kara Shavigi (sev)
Khara shavigi is one of the most loved snacks in Mangalore it is made using chickpea flour (besan). In Kannada, Khara means spicy. It might have got this name because of its looks. It is usually available in bakeries and so we all just get it from shops, but the fact is that this snack can be prepared at home which is very easy to prepare and tasty too. Khara shavigi is best combination with evening tea/coffee.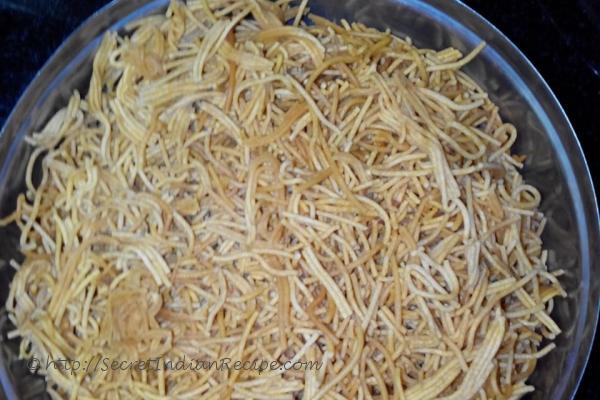 Ingredients:
2 cups gram flour
1 ½ teaspoon red chilli powder
1 teaspoon carom seeds
¼ teaspoon cumin seeds
1 pinch of Hing
1 pinch pepper powder
1 pinch garam masala powder
2 tablespoons melted butter
Salt to taste
½ cup of water
Oil for greasing the mould
Oil for deep frying
Directions:
Take a bowl and put gram flour. Add salt, pepper, garam masala, cumin seeds, soda powder, hing, red chilli powder, melted butter and oil to forma dough. Use as much water required .Mix well until you get stiff smooth dough.
Heat oil in kadhai for frying the sev. Drop a small piece of dough into the oil. When a tiny piece of dough comes immediately to the surface, oil it is ready for frying.
Stuff the sev press with the prepared dough ball and press the batter directly into the hot oil in a circular motion or until the pan is filled with the khara shavigi.
Fry the khara shavigi till golden brown on both sides and then you can transfer it into tissue papers.
Let the khara shavigi cool down completely before breaking it into finger sized pieces and transfer it into an airtight container and you can have the khara shavigi when ever you want.
Footnotes:
Clean the sev press with warm water after you finish preparing the dish because once the dough dries up it becomes very difficult to clean the sav press.