Karachi Halwa (corn Flour Pudding From Karachi)
Sometimes there are moments in life when one cannot process one's state of mind. After toiling for 6 years and almost giving up, I submitted my PhD thesis. And it so happened that it all materialized after I underwent an excruciating pregnancy with carpal tunnel syndrome. I submitted my thesis when my kiddo was 3 months and now when I think back it seems like an impossible feat. So when I got to know that my reports came through and I had passed, I was left dumbstruck.
I knew I had to be happy, but I could not believe my stars. I could not muster the energy to bake a cake or prepare something sweet. My mind was numb or rather inactive maybe after all the years of suffering when I thought I was going to get rejected, this victory sort of immobilized me.
I remember reading somewhere this quote that one should bake when in doubt. I did not feel like baking so I went ahead and searched my pinterest recipes for sweets. And it is there I found this recipe neatly tucked on how one could prepare a microwave halwa. My hubby and I are not lovers of sweets so making sweets is waste of our energy and money, it often ends up in our neighbors' homes. But I had to zap out of my inertia so I decided this time though it was going to our friends and neighbors I was making this sweet.
My cousin who was present while I made this dessert stayed back hoping to take her share home but because it was still hot, she gave up. My 8 month old was fascinated with the colour of the halwa and watching me stir the halwa on an off.
I made this halwa using the microwave method. I doubled the proportions so it took me more time than the recipe informed me nevertheless I did manage to get some glossy halwa. This halwa is called Bombay halwa and Rubber halwa as well because of its texture but is basically a Sindhi halwa. It is made of cornflour, sugar and ghee alone. Please do not compromise on the sugar part the halwa gets its glossy appearance from the sugar alone but mind it, it is going to be mind blowing sweet. Next time I am going to do it pink with some rose petals and rose essence, maybe you could try it instead of the orange color I chose.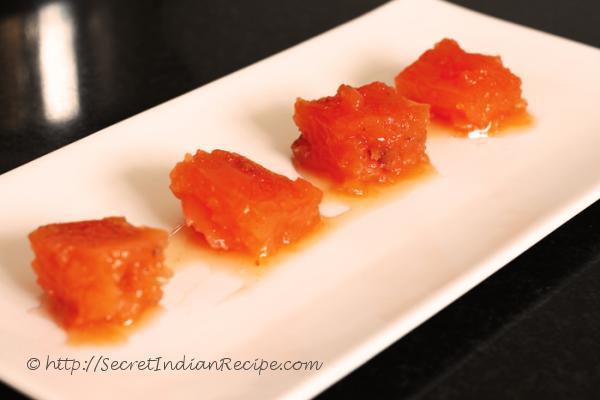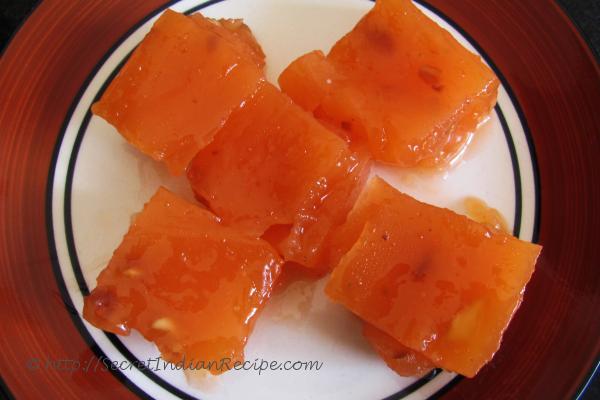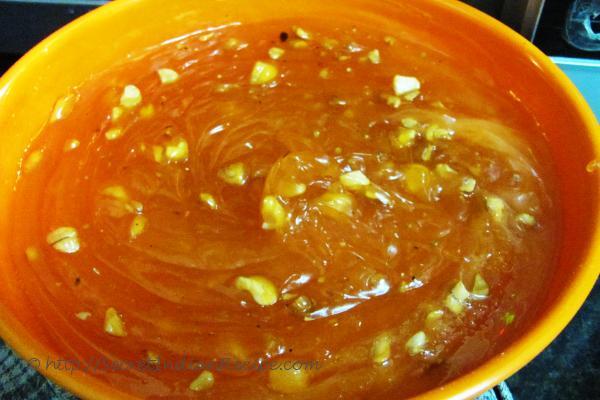 Ingredients:
Corn Flour- 1/2 cup
Sugar- 1 1/2 cups
Water- 2 cups
Cardamom powder- a pinch
Almonds chopped- 4 tsp
Ghee- 3 tsp + 1 tsp
Orange food color- 2- 4 drops
Directions:
In a microwave safe bowl add the corn flour, water, food color and water. Mix well with a whisk so that there are no lumps.
Microwave this mixture for 6 minutes. After 4 minutes pause the microwave oven and stir the mixture and continue for the remaining two minutes.
Be careful to use mitten so as to not burn your hands. Microwave again for 6 minutes more, pausing in between every 2 minutes to stir the mixture.
Fry the almonds in a small pan with ghee and add the cardamom powder. Add this to the microwaved mixture and stir well.
Apply 1 tsp ghee to the plate in which the halwa is to be set. Pour in the halwa mixture into this greased plate.
Let the halwa set for 1 hour and slice into square pieces. Consume within a week if you plan to store it longer refrigerate the halwa but do not store for more than 15 days because this halwa has no preservatives.
Footnotes:
Each microwave oven has different temperature setting so if your mixture is still watery and does not appear thick enough microwave for 2- 6 minutes more. This is a judgment to be made by you.
Do not bake or grill, just microwave- the function used to heat food.
Do not reduce the sugar level even though the end result would be so sweet that it would make you want to alter the sugar level next time. Sugar is the building block of this sweet.