Karela Aur Vadi Chutney/kalaravadi Chutney
This recipe is from Odisha. It serves as a side dish and is very easy and takes less time to prepare.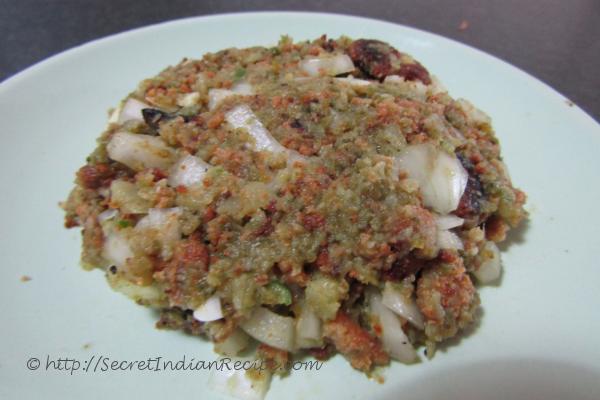 Ingredients:
1. 2 karela
2. 2 cloves of garlic
3. 1 green chilli
4. 50gm vadi
5. 1 tbps mustard oil
6. salt as per taste
7. 1 small onion
Directions:
Preparation: 1. Cut karela into small pieces and boil it for approx. 10 minutes.
2.Cut onion into very small pieces.
Method: 1. First fry vadi and grinde it lightly and keep aside.
2. Smash or grinde the boiled karela with green chilli and garlic.
3. Now add onion, mustard oil, vadi and salt (as per your taste). Mix it well and the dish is ready to eat.
Footnotes:
Enjoy your dish with rice. It will be better and tasty if you add vadi just before you serve.
Other Indian Recipes that you may Like !