Karela Bhaja (simple Bitter Gourd Fry )
Bitter gourd is an excellent source of nutrients and is considered as the best remedy for Diabetes. Cooked bitter gourd stimulates the appetite, cleanses the liver, purifies the blood. This is one of the most simple and easy recipes of bitter gourd.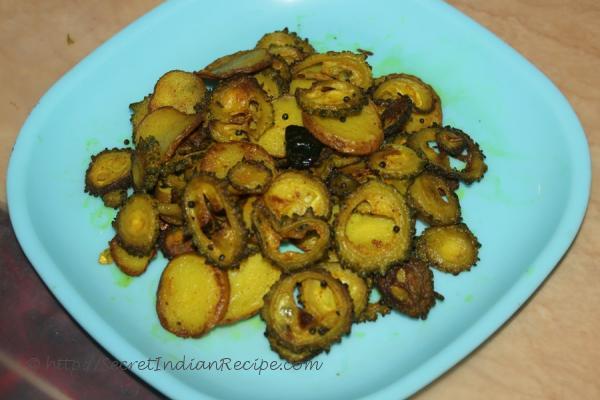 Ingredients:
Bitter gourd (Karela) 300gm
Potato 1
Turmeric powder 1/2teaspoon
Salt to taste
Mustard seeds 2 pinch
Dry Red Chilli 1
Rice Bran oil 3 tablespoon
Directions:
Wash and cut the bitter gourds and potato into thin round slices.
Heat oil, add mustard seeds and Red chili and let it splutter.
Then add bitter gourds and potato slices, turmeric powder and salt. Mix all together and then put a lid on.
Stir it time to time under low flame and fry it till bitter gourd and potato is well cooked. This will take about 15-17 mintues.
Once cooked , fry it on high flame till it turns golden brown.
Now its ready to be served with rice.