Karela Ka Chips (bitter Gourd Wafers)
Long time ago, I had these Bitter gourd chips at one of my classmate's home. Her grandmother was diabetic and so her father used to get these from Bangalore. I have always had Potato chips and the very idea of Bitter gourd chips was weird for me. Still, when my class mate insisted, I had few. I would not say it was awesome, but it was not bad. It was a different experience. I felt, it would be a good idea to have these bitter gourd chips as a taste buster after fever or prolonged sickness when you find everything tasteless. Recently when one of my Aunts (Who is a diabetic) came over to my place for vacation, I thought of trying these. I added my own spices and baked it in oven instead of frying it to make it healthier.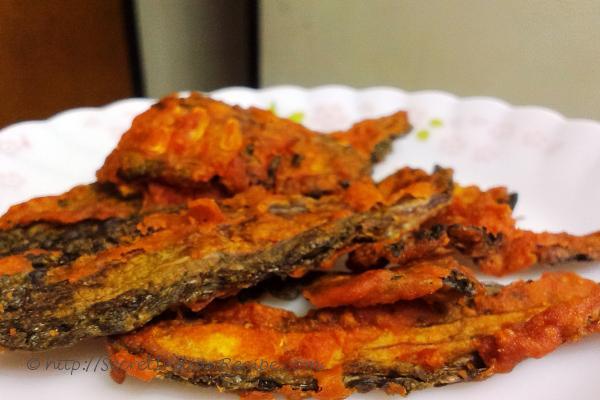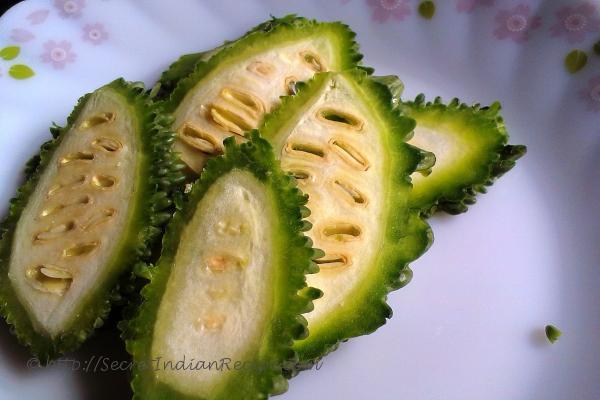 Ingredients:
Karela (Bitter gourd) – 5-6 big ones
Salt – 2 tablespoon to marinate and then as per taste
Lemon juice – 1 lemon
Cumin seeds – ½ tablespoon
Carom Seeds – ½ teaspoon
Red chili powder – 1/2 teaspoon
Turmeric powder – ½ teaspoon
Amchur powder(Dry mango powder) – ½ teaspoon (Optional)
Besan (Gram Flour) – 4-5 tablespoon
Rice flour – 2 tablespoon
Oil – 2 tablespoon
Directions:
Wash and cut the bitter gourd in thin slices vertically. Soak them in 2 cups of water along with salt and lemon juice for 20-mintues.
In the meantime combine besan, rice flour, red chili powder, turmeric powder, cumin seeds, carom seeds, amchur powder, oil and 1-2 tablespoon of water in a bowl and prepare the marinade.
Now take out the sliced bitter gourd from lemon juice and salt water and wash twice. Marinate the slices in the masala marinade for 30 mintues.
Preheat the oven at 200 degree centigrade. Place the marinated bitter gourd slices on a greased tray carefully.
Bake the bitter gourd slices for 10 mintues. Then open the Oven and flip all the slices and again bake them for 10 mintues. (The time may vary to 20 – 30 mintues in different oven)
By the time the slices will turn golden brown and crispy. Let them cool and then store them in air dry containers and enjoy with tea.