Karela With Prawns (bitter Gourd And Prawns)
Ok, So I know this is one vegetable that is an acquired taste. I have never tried to convert someone to liking the taste of the very misunderstood Karela. But, for those of you who love it, like me, this is one dish that is yum yum yummy! These tiny prawns are not easy to come by where I live and get sold out even before I go to the market. My very friendly (and sometimes over priced) Fisher monger calls me whenever they are in. I bought a big batch, which will mostly be converted to a filling for my Prawn Rissoies (recipe coming soon) but I couldn't resist throwing some in here too. The mint gives it a fresh flavour as the chillies give it a little kick.
So, if you are planning a Karela dish some day and happen to spot some prawns at your local market, do give this dish a try. I'm sure you will like it :)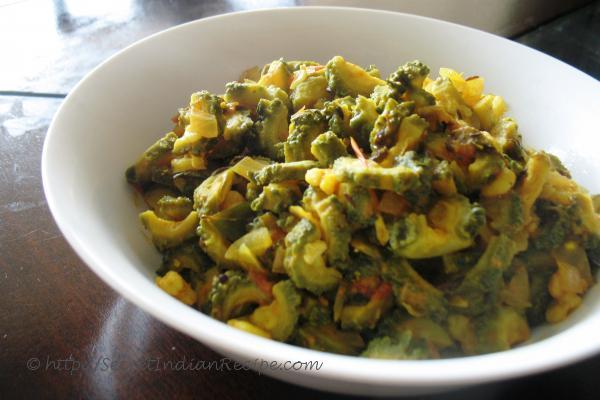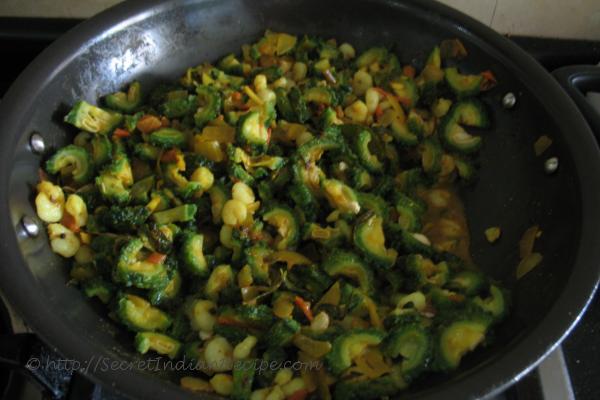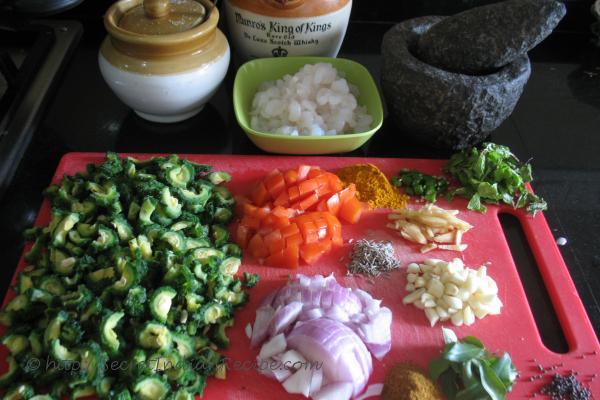 Ingredients:
8 Karelas, washed, dried, halved and cut into slices
1 Large Onion, chopped into medium dice
1 Large Tomato, meduim dice
1 Full head of Garlic, peeled and chopped
1 Inch of Ginger, julienned
20 Curry Leaves
3 Green Chillies chopped
a Small handful of Mint leaves
1 tsp Cumin seeds
1 tsp Mustard
1 tsp Turmeric Powder (Haldi)
2 tsp Coriander-cumin (dhanna jeera powder)
1 cup Prawns
1 tbsp Sugar
Salt to taste
Juice of 1 Lime
2 tbsp oil
Directions:
First, salt the chopped Karela (about 1 tbsp should do) and leave it for 20 minutes. Then squeeze out all the water from it. This is said to reduce its bitterness.
Heat 2 tbsp oil in a pan. Add jeera and mustard seeds to the hot oil.
Add the mint and curry leaves as well. Followed by the ginger, garlic and onion. Fry till the onion is translucent.
Add the tomatoes, chillies and the dry masala powders, stir for a second and add about 2 tbsp water. Cook this till the raw smell of the masalas go away, about 1 minute.
Tip in the prawns and coat them in the masala. Add the karela too and mix thoroughly.
Add the salt to taste, sugar, lime juice and a little water to the vessel. Cook on a low flame, stirring occasionally till the karela is cooked through. Remember to taste and adjust the salt or lime juice if needed.
Serve hot with rotis.
Enjoy!