Karimeen (pearl Spot) Fusion
This dish was born out of sheer boredom! I wanted to make a karimeen pollichathu but I couldn't get good banana leaves. Besides I was tired of my usual dishes. Wanted a twist. I decided that the karimeen should surely be happy to meet up with thyme and olive oil!
An experiment that turned out to be a perfect main course and a winner at many dinners!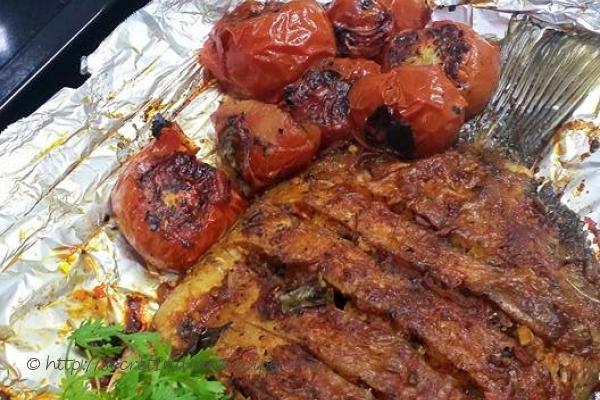 Ingredients:
Karimeen fish (pearl spot) cleaned and slit across the body - 1 fish- approx 500 gms
salt to taste
freshly crushed pepper - 2 tbsp
turmeric powder - 1 tsp
juice of 1 lemon
onions chopped - 1/4 cup
ginger chopped - 2 tbsp
garlic chopped - 1 1/2 tbsp
olive oil - 1/4 cup
cayenne - 1 tbsp
chopped tomatoes - 2 cups
curry leaves - chopped fine - 1/4 cup
cilantro - chopped fine - 1/2 cup
dried thyme - 1 tbsp
2-3 tomatoes halved and salted for roasting
Directions:
Marinate the fish with salt, 2 tbsp pepper crushed, 1 tsp turmeric powder and juice of 1 lemon and leave it for an hour. Shallow fry both sides in about 3-4 tbsp olive oil for just 3 minutes to each side.
Heat 2 tbsp of olive oil in a pan. Saute onions, ginger and garlic lightly. Do not caramelise. Add pepper and cayenne. Add the tomatoes and cook on a low flame till it is a mushy consistency. Add salt to taste. After it is done, add the cilantro, thyme and curry leaves.
Scoop a bit of this sauce onto a sheet of aluminium foil. Placed the fish on this bed of sauce. Pour more sauce on top of the fish. Pack the foil loosely. Bake in a preheated oven at 200°C for 20 minutes (10 minutes for each side). Roast some salted tomatoes along with this. Serve with a simple cucumber salad.
Other Indian Recipes that you may Like !