Karunai Kizhangu Varuval - Yam Masala Fry
This recipe can substitute potato fries for those who are health conscious. According to Siddha medicine yam has numerous medicinal properties like healing wounds faster, improving for women's reproductive system, lower cholesterol etc.
This is an easy to cook recipe. Consumes less time. Though this vegetable has an odd look but it tastes delicious when cooked this way. I prepare this recipe when I run out of time to make a side dish and I alternate yam for potatoes. Try out this recipe, I am pretty sure you will like it.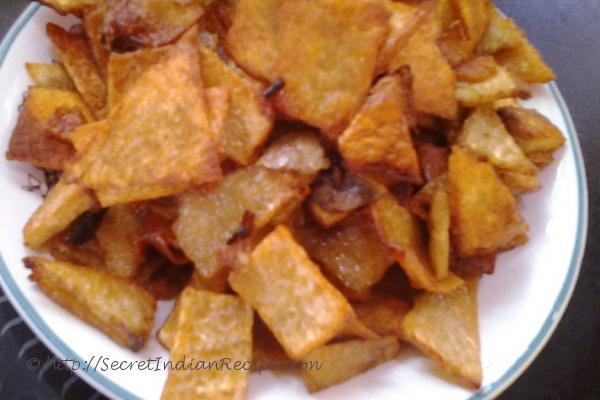 Ingredients:
Yam - 1/2 kg,
Vegetable oil - 200 ml.
Chili powder - 2 tbsp.
Turmeric powder - 1/2 tsp.
Cumin powder - 1 tbsp.
Pepper powder - 1/2 tsp.
Salt - as per taste
Lemon - half sliced
Directions:
Remove the hard outer layer of yam and finely chop as per the size you prefer and keep it aside.
Place a fry pan on medium flame and add oil to it. Once oil is hot, carefully put the yam in batches to ensure it is fried properly.
Sprinkle little salt over the yam and let it fry till it turns light golden brown.
Turn the yam to the other side so it can cook evenly on both sides.
Once both sides turn golden brown remove it carefully from the oil and place it on an absorbent paper to remove excess oil.
In this method fry all the yam pieces. Now replace the hot oil to a container and place the pan on low flame. Or you may use another pan to mix the masala on fried yam.
Add the fried yam to the empty pan and sprinkle chili powder, cumin powder, turmeric powder, pepper powder on yam and slightly saute it on low flame, this is to remove the raw flavour of the masala.
Leave it for 2 minutes on low flame and remove it and squeeze few drops of lemon on top of it.
Serve it hot as a side dish for rice or you may have it as a snack.