Kashmiri Murgh (chicken Cooked In Kashmiri Style)
Kashmiri style chicken is very similar to butter chicken except for the use of cashews and raisins. It is a sweet as well as spicy curry. When I first tasted this curry in Srinagar the shop keeper told me it was Kashmiri Butter Chicken. After a lot of research I came to the conclusion that it was Kashmiri Murgh that he described as butter chicken. This is also one of the top ten, most voted chicken recipes from India.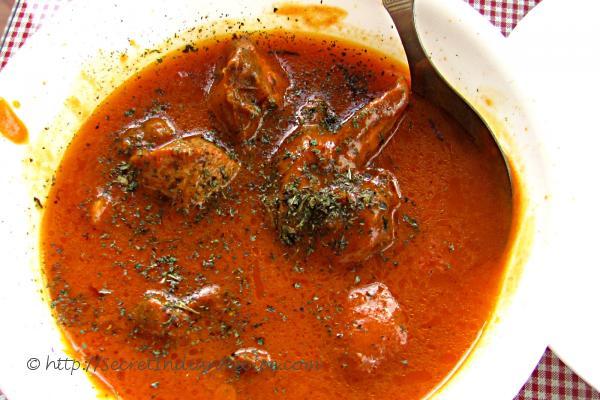 Ingredients:
Chicken - 400 g
Onions- 4
Tomatoes- 4 large ones
Cashew nuts - 25 g
Raisin- 25 g
Salt- to taste
Fresh Cream- 100 ml
Oil- 2 tbsp
Water- 1 cup
Turmeric powder- 1/2 tsp
Coriander powder- 1 tsp
Chili powder- 1 tsp
Garam Masala freshly ground- 1 tsp
Kasoori methi- 1 tsp
Directions:
Grind fresh garam masala by pounding 1 inch cinnamon, 2 green cardamom, 1 bay leaf, 2 cloves and 1/4 tsp pepper with 1 piece nutmeg.
Heat oil in a pan and saute the diced onions. When the onions brown, add deseeded and chopped tomatoes.
Now add the nuts and raisins and saute for 5 minutes before adding the spice powders. Add the chicken to this masala and cook with a lid covering the pan.
Add salt and water after 5 minutes. Add fresh cream once the chicken is cooked.
Roast the kasoori methi in a pan for 1 minute and it will crumble when pressed between two fingers.
Crush the kasoori methi and sprinkle over the chicken curry. Take the curry off the flame.
Serve with rice or roti.
Footnotes:
Add fresh coriander leaves if you love the flavor of fresh coriander leaves.
Other Indian Recipes that you may Like !