Kashmiri Mutton Yakhni Pulao (mutton And Rice Cooked In Mutton Broth)
Kashmiri Mutton Yakhni Pulao is actually a kashmiri version of Biryani. If fact the ingredients and the way of preparing it, is more or less same except that Yakhni Pulao tastes a little sweet.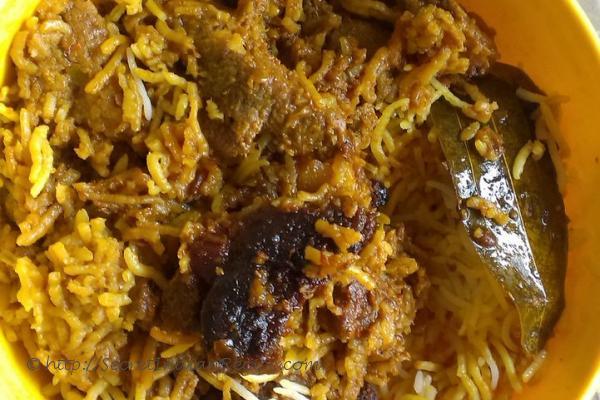 Ingredients:
(For yakhni-gravy)
Cinnamon stick - 1/2 inch
Cloves- 5 cloves
Green cardamom - 5 pieces
Black cardamom - 5 pieces
Shahi zeera - 1/2 tablespoon
Ginger - 1/2 inch
Turmeric powder - 1/4 tablespoon
Yoghurt - 1/2 cup
Kashmiri lal mirch powder - 1 tablespoon
(For pulao)
Mutton - 1/2 kg
Basmati rice - 2 cups
Onion - 2 pieces (sliced)
Sugar - 1/22 tablespoon
Salt - as per your taste
Oil - 10ml
Directions:
Kashmiri Yakhni pulao is cooked in the Yakhni gravy so we have to first start by preparing Yakhni . For this, take all the ingredients for yakhni gravy, except the yoghurt and grind into a smooth paste.
Now heat around 5 ml oil in a pan and pour the grounded masala. Fry the masala till it leaves the sides. Put off the gas and let it cool.
Whisk the curd in a bowl and slowly pour it into the masala.
Yakhini is ready.
To make the Pulao first heat the remaining oil in a heavy bottom pan. Put the sliced onion and fry till they turn golden brown. Take out half of the fried onions and keep aside.
In the remaining oil add the mutton pieces and fry for 2-3 minutes.
Pour the yakhni masala and mix.
Now add salt and pour the mutton along with the gravy into a pressure cooker and cook up to 5-6 whistles.
Check if the mutton is done.
Take out the mutton pieces and measure the gravy. It should be almost double the quantity of rice. If needed you can add boiling water.
Put the soaked rice in the mutton gravy along with the mutton and sugar and cook till the rice is done.
Garnish with fried onions and serve hot.
Footnotes:
You can marinate the mutton pieces in yoghurt for easy tenderizing.
Other Indian Recipes that you may Like !