Kashmiri Nadru Yakhni ( Lotus Stems Cooked In Yogurt Sauce)
Nadru yakhni is a popular Kashmiri recipe made from lotus stems. Until my visit to Kashmir I had no clue that people actually ate lotus stem and the variety of dishes made from this humble part of lotus flower amazed me. If one intends learning a new recipe it ought to be from the native experts. I learned this recipe from a friend's mom so this is my version of Kashmiri Nadru Yakhni learnt from a Kashmiri Pandit household.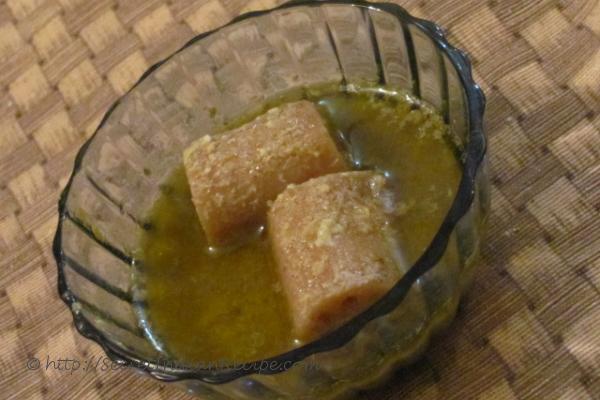 Ingredients:
Lotus Stems- 1/2 kg
Yogurt- 1/2 kg
Cardamom- 2
Fennel powder- 1/2 tsp
Ginger powder- 1/2 tsp
Mint powder- 1/4 tsp
Water- 1/2 cup
Onion minced or paste- 2 tsp
Powdered cardamom- 1 tsp
Salt - to taste
Cinnamon- 1 stick
Ghee- 2 tbsp
Directions:
To make the onion paste chop onions and fry it with some salt and grind the paste once the onion is browned and cooled
Peel the lotus stems and cut them to small pieces. In a pan heat some ghee add cardamom powder and cinnamon and then the lotus stems. Add water and cook the stems.
In another pan heat the remaining ghee and add the mint powder, fennel powder, ginger powder,cardamom powder and onion paste. Saute well till the rawness of masala dissipates.
Add the yogurt and let the curry come to a boil. Now add the cooked lotus stems, salt and cook for 5 minutes and your yakhni is ready.