Kashmiri Sufta
Kashmiri Shufta -a traditional Kashmiri recipe. It is a rich recipe made with dry fruits, spices and sugar. Kashmiri Shufta is usually made for festivals and weddings.
#Unknownrecipe #regionalrecipe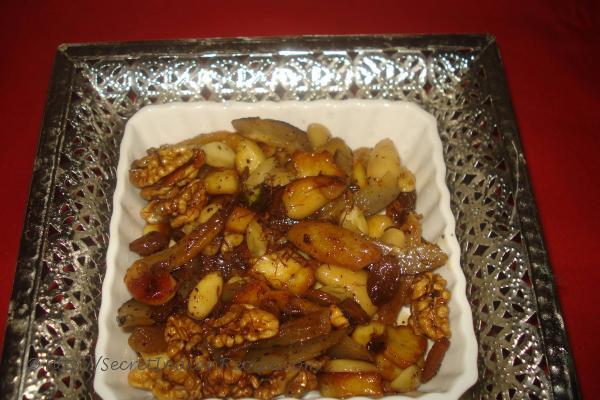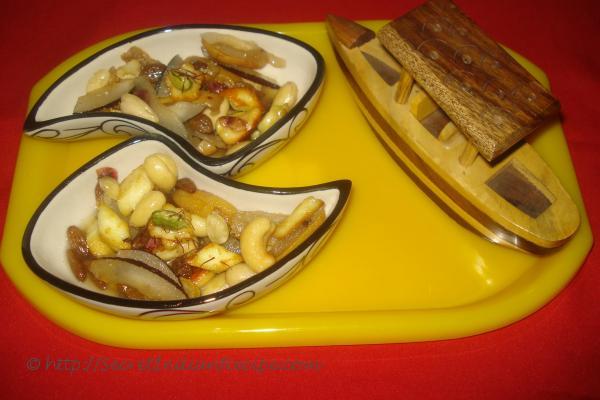 Ingredients:
Almond / Badam – 1/4 cup
Cashew nut / Kaju – 1/4 cup
Raisins/– 1/4 cup
Walnut / Akhrot – 1/4 cup
Dry dates / Khajur – 8-10
Dry coconut slices-8-10
Indian cottage cheese / Paneer – 1/4 cup ( Cut into small pieces )
Clarified butter / Ghee – 1/4 cup
Thick Sugar syrup made with ½ cup of water and 1cup of sugar
Black pepper powder – 1 tsp
Cinnamon powder – 1 tsp
Dry ginger powder – 1 tsp
Cardamom powder – 1 tsp
Saffron – a good pinch
Dried rose petals – 2 tbsp
Directions:
Soak almonds, cashew nuts, raisins, pistachios and walnuts in enough water for 30 minutes.
Soak dry dates in another bowl and cut the soaked dates into small pieces and remove the seeds.
Heat ghee in a pan and fry the coconut slices till brown. Remove on a plate.
Fry paneer pieces in the same ghee till slightly brown.
Drain the water from the dry fruits and add them in the pan along with coconut, paneer and dates.
Add sugar syrup , black pepper powder, cinnamon powder, dry ginger powder, cardamom powder, saffron and rose petals in the pan.
Cook on low flame till sugar is absorbed and dry fruits are soft. Serve immediately.
If making it for later use, re heat before serving.