Kasoori Methi Paneer Tikka (indian Cottage Cheese Grilled With Dried Fenugreek Leaves Marinade)
I tasted this dish for the first time at a restaurant in Chennai. It was lenten season and I was Vegetarian. So when all my friends ordered tandoori chicken, I decided to try vegetarian. And that is when I tasted this tikka. I guessed the combination of ingredients and then when we bought our barbecue grill, I decided to try this recipe. I have written extensively in m previous posts my love for kasoori methi. I loved this marinade so much that I don't wait for the barbecue grill anymore. I even tried a simple stir fry in a pan and these tikkas came out well. The marination time is important though and the quality of paneer you use. I use milky mist and though it is expensive I don't compromise over the price when it is paneer unless I make paneer at home, for which I don't find much time. So hope you will try this dish and let me know your views.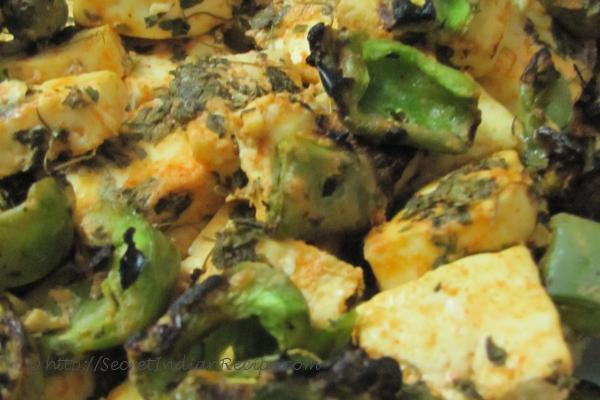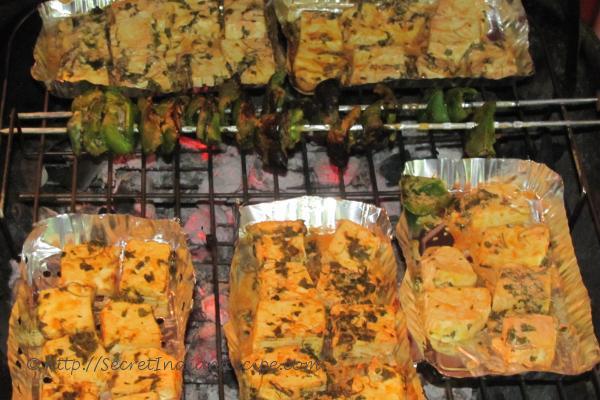 Ingredients:
Paneer- 200 g
Curd- 100 ml
Ginger-garlic paste- 4 tsp
Green Chili paste- 2 tsp
Salt- to taste
Turmeric powder- 1/2 tsp
Kasoori methi- 4 tsp
Oil- 3 tsp
Garam masala- 1/4 tsp
Capsicum- 3
Vinegar- 1 tsp
Gram flour- 2 tsp
Coriander leaves- 1/4 cup
Directions:
Cut the paneer into cubes and the capsicums too. Use freshly prepared ginger-garlic paste for these tikkas by pounding few cloves of ginger and garlic and I prefer using a mortar and pestle for this.
Marinate the paneer and capsicum in a marinade made out of minced ginger and garlic paste, turmeric powder, salt, green chili paste, kasoori methi, vinegar and curd.
Marinate for a minimum of 6 hours preferably overnight. If you are using an oven preheat at 180 degrees and right before grilling add the gram flour to the marinated paneer and capsicum.
Grill for 10- 15 minutes rotating the paneer on both sides. Use skewers if you got them. If they skewers are bamboo made soak them in water for 20 minutes before you use them.
Using a brush apply some oil on the paneer when you start to grill and also when you turn the paneer to the other side.
The same procedure can be done in a frying pan. Cook the paneer and capsicums on skewers on a pan that has some oil.
I used the barbecue grill for this I could not use skewers so I used some foil trays as seen in the images above. This helped me to cook the paneer evenly without sticking to my grill.
Serve warm with rotis or naan.