Kataachi Aamti (maharashtrian Curry Of Bengal Gram)(chane Ki Daal)
This is a unique daal preparation. The name kataachi aamti is derived from the term Kat which is called for the water which is drained from the daal.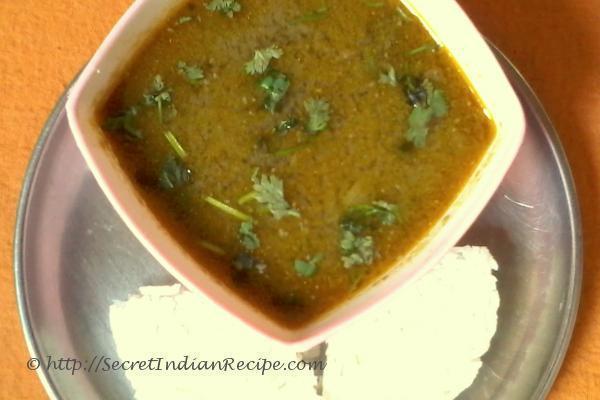 Ingredients:
1 cup bengal gram
1/4 cup grated dry coconut
1/2 inch ginger
7-8 garlic
2 green chillies
1 tsp turmeric
1 tsp red chilli powder
1/2 tsp asafoetida (hing)
3-4 black pepper
3-4 cloves (lavang)
1/2 inch cinnamon (daalchini)
1 chopped onion (big sized)
1 tbsp oil
Directions:
Wash 1 cup chanaa daal well, add 4 cups of water and cook it in the pressure cooker till 3 sounds of whistle. After the daal cooks, drain the water (which is called as Kat) and take the daal on a side. Mash the daal well and mix in the the same water in which the daal was cooked. The consistency of the daal should be thin.
Take grated dry coconut, ginger, garlic, green chillies, black pepper, cloves, cinnamon, and mix it in a grinder and make a thick paste.
Heat oil well and add chopped onion,asafoetida, turmeric and red chilli powder, let the onion cook well. Add the paste, water and mix it well. Keep the consistency thin. bring the daal to a boil. Let it cook for about 15 mins.
Footnotes:
Serve it with hot steamed rice.