Kathal Ke Kabab (jackfruit Spicy Dumplings)
As I belong to Bramhin family, eating Non vegetarian food was a taboo at home. My mother have a passion for cooking and although she could not cook non vegetarian at home, she used to cook vegetarian versions like Kathal or Paneer Biryani, Paneer Keema, Arbi and Channa dal kababs. One of the easiest was the Kathal Kabab. Kathal or Jackfruit is also known as vegetarian mutton, the reson being, it is often cooked in similar way and more or less taste the same. Kathal kabab can be served as snack or can be further cooked in gravy to make an awesome side dish. This time, I am explaining how to make kathal kabab at home, the gravy part, I shall upload some other time.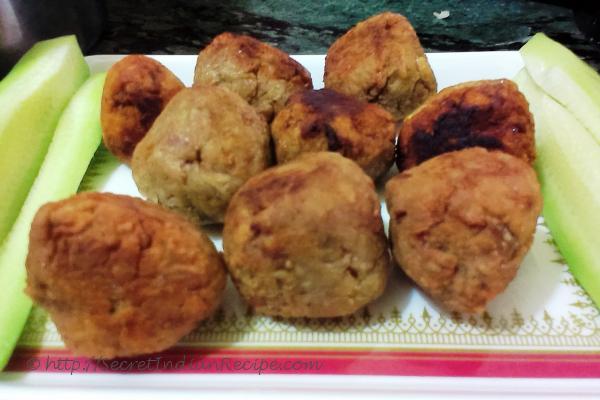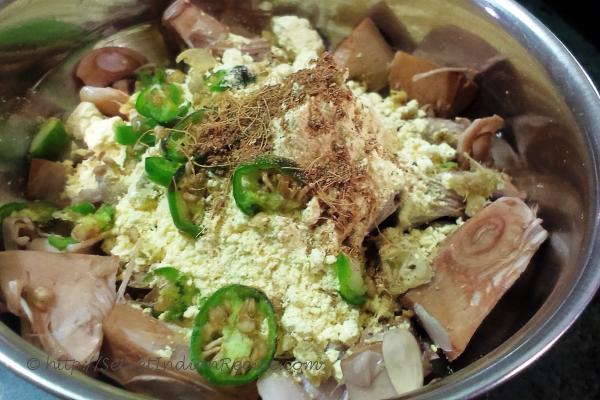 Ingredients:
Kathal (Jackfruit) – 1 bowl
Chopped ginger – 1 tablespoon
Chopped green chilies – 1 tablespoon
Garam masala powder – ½ tablespoon
Roasted cumin powder – 1 tablespoon
Besan (Gramflour) – 5 tablespoon
Salt – to taste
Oil for frying kofta
Directions:
Put the jackfruit pieces in a pressure cooker with 1 cup of water and pressure cook upto 5 whistles.As the steam escapes, check if it is done. Then drain the excess water and take out the jackfruits in a bowl.
Add 3 tablespoons of besan along with chopped ginger, chilies, cumin powder, garam masala and salt in the bowl.
Mix all the ingredients using your hand as you will be able to mash the boiled jackfruit simultaneously.
Now spread the remaining besan on a plate. Take portions from the jackfruit mixture and shape small Kababs. Roll them over the besan to bind properly.
Once all the kababs have been formed, heat oil in a pan and fry them in batches till they turn golden brown.
Serve hot with cucumbers and mint chutney.
Footnotes:
Use soaked and grounded chana dal instead of besan for better taste.