Kathal Pakora(jackfruit Fritters)
Here's a delicious recipe with kathal(raw jackfruit).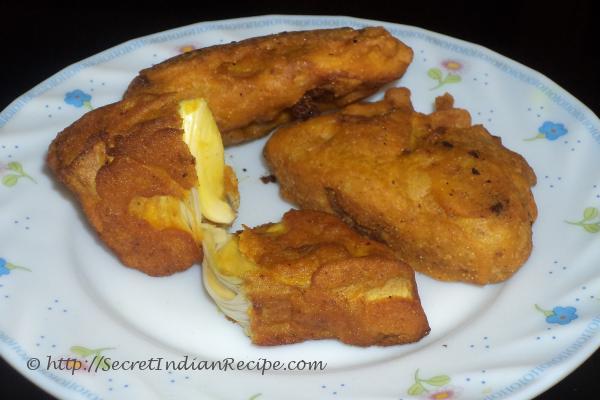 Ingredients:
Kathal(jackfruit) - 250 gm
Gram flour - 1 cup
Rice flour - 2 tablespoon
Semolina - 1 tablespoon
Garlic paste - 1 tablespoon
Salt - to taste.
Red chili powder - 1 tablespoon
Heeng(asafoetida) -1 pinch
Carom seeds - 1/2 tablespoon
Turmeric powder - 1/2 tablespoon
Garam masala - 1/2 Tablespoon
Oil - to fry
Directions:
Peel off the jack fruit and take the seeds out. Cut it into small pieces. boil it in the water until it gets tender. Rinse the water. keep aside.
Take a mixing bowl. Combine gram flour, rice flour,semolina, garlic paste, chili powder, turmeric, heeng, carom seeds,garam masala and salt.
Add water as thickness required. Combine everything to form a paste.
Take a pan. Add oil and keep gas on low flame.wait till the oil starts boiling.
Dip jackfruit one by one in this batter. Once oil is hot put the coated jackfruit gently in the oil.
Deep fry the jackfruits until crisp and golden brown. take them out of pan .
Your Jackfruit Pakoras are ready. Serve them hot with tomato ketchup or chutney
Footnotes:
wear gloves before cleaning or cutting the jack fruit or simply apply mustard oil.