Kathaler Tarkari (jackfruit Curry)
Kathal ki Sabzi /Tarkari is a Bengali recipe. It is know as vegetarian mutton. Very delicious.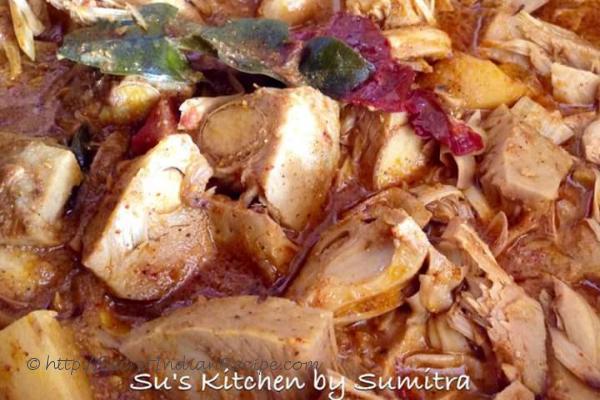 Ingredients:
500 grams raw Jack fruit clean and cut into cubes
1 Onion thinly sliced
1 Tomato chopped
2 Potatoes cut into big cubes
2 tbsp Ginger, Garlic and Chilli paste
1 tsp Coriander powder
1 tsp Cumin seeds powder
1/2 tsp Garam masala powder
1/2 tsp Turmeric powder
1/2 tsp Kashmiri red chilli powder
1/2 tsp Cumin seeds
2 Bay leaves
1 whole Red dry chilli
2 tbsp Curd
Salt to taste
2 tbsp Ghee
Directions:
Par boil Jack fruit in salt water. Throw the water out.
Take a vessel. Add 1 and 1/2 tbsp ghee. Add cumin seeds, red chilli and bay leaves. Let the cumin seeds crackle.
Add the onions and sauté it for few minutes. Add the potatoes and fry it. Add the jack fruit and tomato. Cook on medium flame for 3 to 5 minutes.
Add curd and cumin powder, coriander powder, garam masala powder, chilli powder, turmeric powder and salt. Stir it and occasionally and cook it for 5 minutes... Till the masalas have incorporated well with the vegetable.
Add 2 cups of water and cook it till the potatoes and jack fruit has become tender and the gravy has reduce a bit.
Add the rest of the ghee... Take it off the gas. Cover and let it stand for 5 to 10 minutes... Serve it with hot rice or Chappati.
Footnotes:
Jackfruit is bit difficult to cut. Either request the vegetable vendor to cut the jackfruit or for cutting the jack fruit apply oil on you palms before cutting otherwise it is very sticky to cut.