Kathirikkai Bhajji - Brinjal Fritters
I learnt this recipe from my mom as she used to prepare this very often which goes well as side dish or an evening snack. Those who are health conscious can have these brinjal bhajji instead of potato bhajji. Check this out and am sure you will relish these crispy fritters.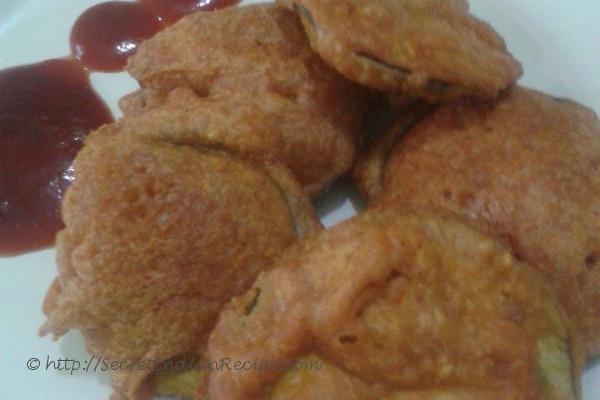 Ingredients:
Brinjals - 1/2 kg
Besan flour (gram flour) - 1/4 kg
Chili powder - 2 tbsp.
Turmeric powder - 1/2 tbsp.
Hing (Asafoetida) - 2 pinch
Rice powder - 1/2 cup (approximately 50 grams) Optional
Ginger and Garlic paste - 1 tbsp.
Salt - as per taste
Vegetable oil - 1/4 litres
Baking soda - 2 pinch
Directions:
Wash the brinjals thoroughly and then wipe with kitchen towels or tissues.
Take a bowl and add besan flour, rice flour (rice flour is optional, I use it for the crispy texture.
Add ginger and garlic paste, chili powder, turmeric powder, Baking soda, salt, Hing and mix it with water, make sure that you do not add too much water, the paste should be thick.
Now slice the brinjals into very fine pieces and keep it aside and place the fry pan in medium flame and pour oil into the pan. Once the oil is hot do a test by adding a spoonful of mixed flour into oil,
Once it's cooked remove it from oil and check if salt and chili powder is enough in the flour.
Now dip the sliced brinjals one by one into the flour mixture and carefully slide it in the hot oil. Once it's cooked on one side of the brinjal make sure to turn it to other side.
By seeing the colour you can know if the fritters are cooked. The colour will change to light brown.
Remove the cooked bhajji from oil and place it on absorbent paper, to absorb excess oil.
Serve it hot with rice or you can eat it as an evening snack with tomato sauce.