Kathrikkai Moru (brinjal Buttermilk Curry)
I find it very difficult to make my hubby have brinjals. He has this strong aversion for brinjals from his childhood. One way I make him eat them is as Bhegun bhaja the thick round fried slices of brinjals the Bengali style. My hubby lived with Bengalis all his childhood in Bhopal so he is an avid fan of Bengali food. The second brinjal recipe that is a hit at home is this buttermilk preparation. Anything added to buttermilk is a hit with my family. This is a recipe that I picked up from my IIT hostel. They seemed to have different varieties of this moru curries. I guess any vegetables is seasoned rightly passes the test to be incorporated into moru. Hope you will try this recipe.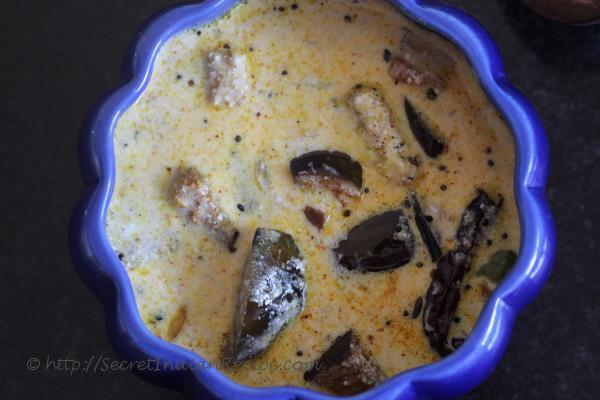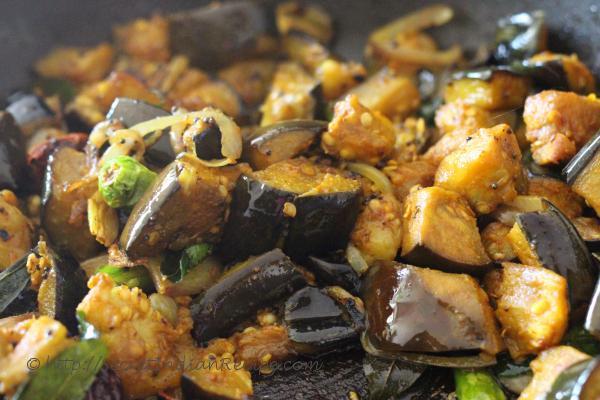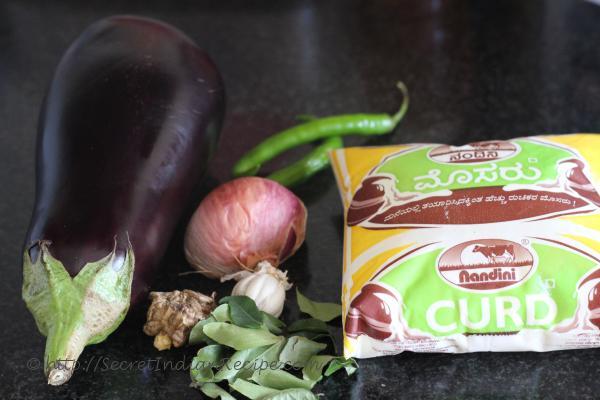 Ingredients:
Brinjal- 1 big one or 4 small ones
Curd- 200 ml
Onion- 1
Ginger- 1 inch piece
Curry leaves- 6-8 leaves
Garlic- 6 cloves
Green chilies- 2
Turmeric powder- 1/2 tsp + 1/4 tsp
Fenugreek powder- 1/4 tsp
Chili powder- 1 tsp
Asafoetida- 1/2 tsp
Oil- 5 tbsp + 2 tsp
Mustard seeds- 1/4 tsp
Cumin seeds- 1 tsp
Salt- to taste
Dry chilies- 3
Directions:
Marinate the brinjal with salt, chili and turmeric powder. Heat 5 tbsp oil in a pan, and shallow fry the brinjal, after 20 minutes.
Drain the fried brinjals on a paper towel and set aside. In a serving bowl whisk the curd with salt and 1/4 cup of water.
Heat 2 tsp oil in a pan and add the mustard seeds. When the mustard seeds splutters add the dry chilies, cumin seeds and curry leaves.
After the dry chilies and curry leaves is sauted for 2 seconds add finely chopped onion, green chilies and minced ginger and garlic.
Saute till the ginger and garlic starts browning add the spice powders. Roast the spices till they emanate a nice aroma. This should take 4-5 minutes over low flame.
Add the fried brinjal to the prepared tempering and saute for 2-3 minutes to blend the flavours. Switch off the flame after this and let the brinjal and tempering cool a bit.
Add the brinjal to the whisked curd and transfer the curd to the pan used for tempering. Heat the curd over low flame for 1 minute and transfer it to the serving bowl.
Serve with rice.