Katrika Moru Curry (brinjal Buttermilk Curry)
Katrika Moru curry is a tasty dish. It is famous in Kerala. Nutritionally brinjal is low in fat and has rich source of fibre. This brings down the risk of getting heart attack. It is very good for brain. It is a healthy diet for those who want to reduce weight.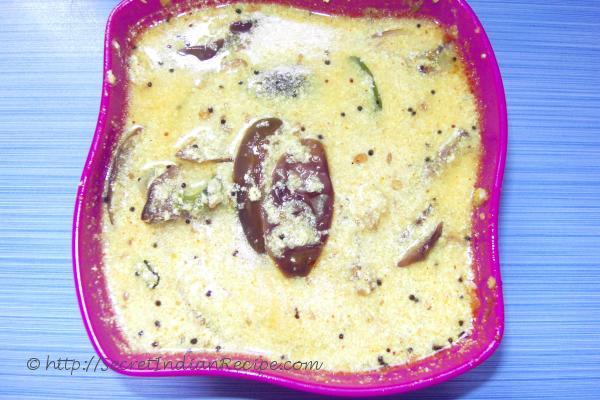 Ingredients:
Butter milk - 2 cup
Mustard seeds- 1/2 tsp
Onion - 1
Green chilli-3
Kunjulli- (shallots) -4
Brinjal -4
Curry Leaves-Few
Coconut oil -4 spoon
Coconut grated - 1/2 cup
Fenu Greek seeds -1/2 tsp
Dry red chilli-3
Ginger -1/2 tsp
Garlic -1/2 tsp
Water for grinding-4 tsp
Cumin seeds -1 tsp
Directions:
Chop brinjal and onions into small pieces.
Heat oil in a pan add chopped brinjal, shallow fry and keep it aside.
Grind coconut with 4 teaspoons of water, cumin seeds, shallots, green chilli, ginger and garlic and keep it side.
Pour this into a vessel. Add buttermilk along with salt and cook on low flame. Add fried brinjals into this.
Keep stirring and let the buttermilk become warm. Do not let it boil.
Heat coconut oil in a pan splutter mustard seeds and onions sauté for a while.
Add curry leaves, red chilli, fenuGreek and sauté again.
Pour this tempering to Katrika Moru curry (Brinjal buttermilk curry).
Footnotes:
If we boil the buttermilk, then curry will get spoiled.