Kattu Achinga Payar Thoran ( Wild Yard Long Bean Stir Fry)
We got these wild yard long beans on our trip back from Kerala to Bangalore. These beans looked very different from the regular yard long beans and were darker in color. The shop keeper who sold these told us it was a wild variety and would taste sweeter. He even told us how we should cook it and his method was devoid of the usual spices we used. So I thought I should try it out. It indeed tasted sweet and different from the regular yard long beans. I did some google search and found some picture of this beans but I could not find any recipes. This makes these beans very special and unique to me, if any of you chance upon these beans at Wayanad which is the district bordering Kerala and Karnataka, do not hesitate, go ahead and buy these beans. They taste so fresh and healthy.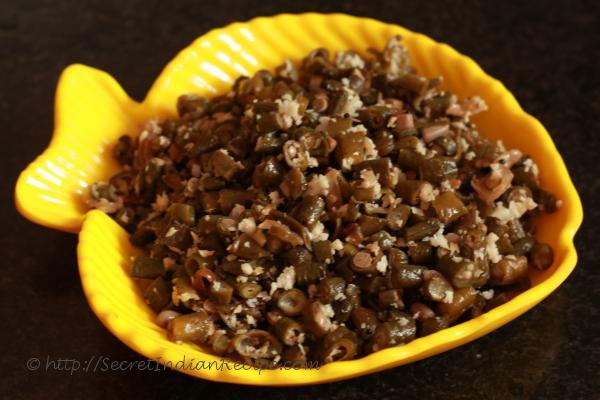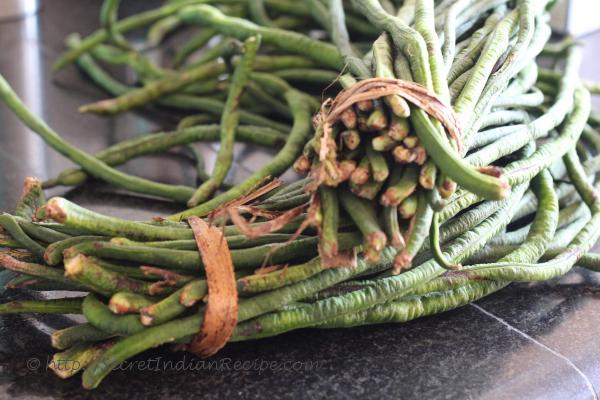 Ingredients:
Wild yard long beans- 2 bunches
Onion- 1
Curry leaves- 1 sprig
Green chilies- 4
Coconut oil- 2 tbsp
Salt- to taste
Grated Coconut- 1 cup
Mustard seeds- 1/2 tsp
Directions:
Wash the beans and cut off their tips. Chop them finely and set them aside in a plate.
Chop the onions and green chilies finely. Heat oil in a pan and add the mustard seeds and curry leaves.
When the mustard seeds splutter, add the chopped beans. Cover the pan with a lid and cook over low flame for 10 minutes.
I do not add water while cooking any beans and I always cook it on low flame. The beans will release sufficient water when you cook it covered with a lid.
After 10 minutes add salt and grated coconut and give the beans a stir. The beans would have cooked almost by now.
Now you need not cover the pan with a lid and you can increase the flame to dry up the beans. This beans releases a lot of water while you cook it covered.
Increasing the flame will help in reducing the water content and drying up the stir fry. Switch off the pan once the beans is dry and has no water content left.