Keerai Molagootal (spinach Leaves Cooked With Coconut And Yellow Lentil)
This is a traditional recipe of South Indians. This is my favourite one which my mother makes. I learnt it from her. It can be had with mango pickle. It tastes yummy with hot rice and with ghee.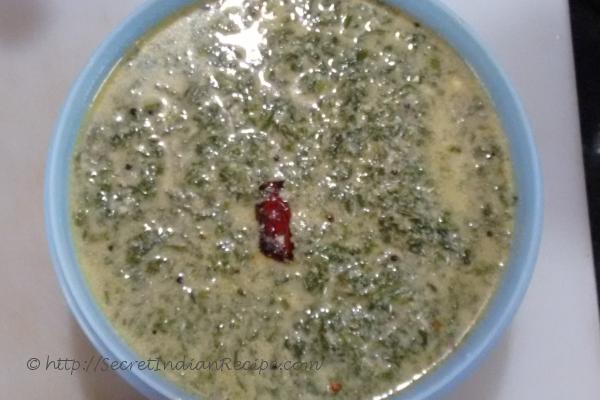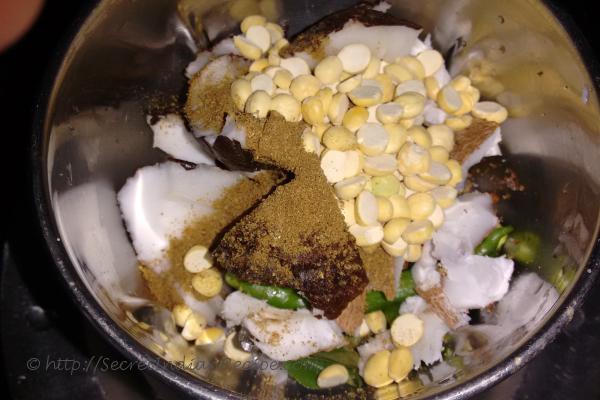 Ingredients:
Spinach leaves – 2 bunches
Toor dal (boiled) – 1 cup
Freshly grated Coconut – 1 cup
Urad dal – 2 teaspoon
Jeera (Cumin) – 1 teaspoon
Red chillies – 3 Nos. (Green Chillies can also be used)
Fried chana dal - 1 tablespoon (optional)
For tempering:
Mustard seeds – 1 teaspoon
Jeera – ½ teaspoon
Urad dal – ½ teaspoon
Red chilli – 1 no.
Turmeric powder – ½ teaspoon
Coconut oil – 1 tablespoon
Directions:
Wash the spinach leaves well and finely chop them.
In a kadai, fry urad dal and red chillies with little oil.
Make a paste with fresh coconut, fried urad dal, red chillies, fried chana dal (optional) and jeera.
In a kadai, heat coconut oil, add mustard seeds, jeera, red chilly and urad dal for tempering.
When urad dal turns little red, add the spinach leaves and turmeric powder.
Add salt and a pinch of sugar to maintain the colour of the spinach.
Cover it and cook on low flame until the spinach leaves are cooked well.
When the spinach leaves are well cooked, add the grounded paste to it and also the boiled toor dal to the spinach.
Mix it very well. Let it boil for five minutes.
Keerai molagootal is ready and can be had with hot rice.
Footnotes:
Instead of finely chopping the spinach leaves, we can even blanch the spinach and just pulse it in the mixie.
Molagootal can also be made with vegetables such as cabbage, carrot, peas, drumsticks. Cut all vegetables into small cubes and cook it along with salt and turmeric and the rest is same as above.