Kerala Liver Varuthathu Shaap Stylil (kerala Style Liver Fry The Toddy Shop Style)
The usual style of making a liver curry back home is with a tomato gravy base but this recipe is quite different. It might appear greasy and crisp but it is a delicious super spicy preparation. This is the typical curry you would find at the local toddy shop in Kerala also known as 'shaap'. I visited one such toddy shop recently with m family. Toddy shops now have family rooms because people savour the food there these days and there is no taboo going and having a meal from such places today. Everything we ordered was super spicy but I loved few of their preparations and one of them was this liver fry. I realized certain things needed to be cooked in coconut oil to get that authentic rustic flavour and this is one such recipe.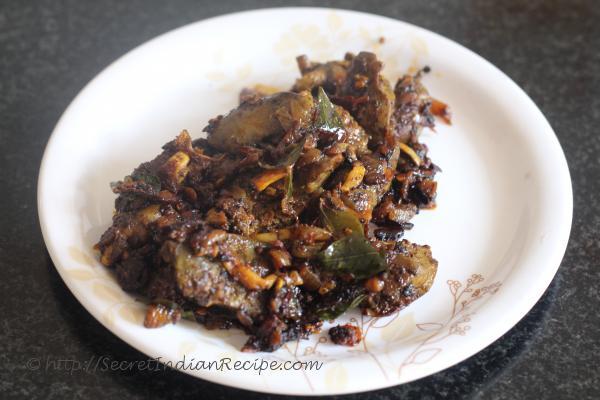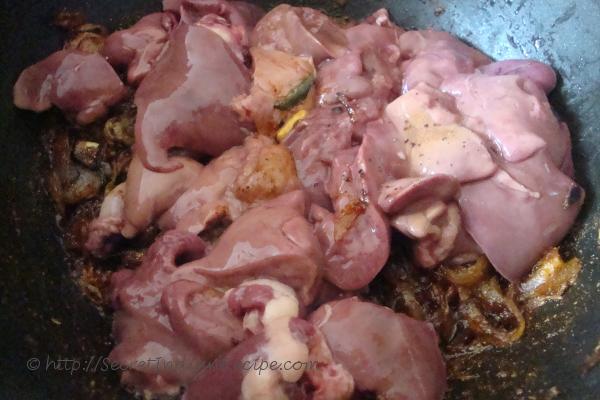 Ingredients:
Chicken liver- 250 g
Shallots/sliced onions- 1 cup
Garlic- 10- 12 cloves
Curry leaves- 1 sprig
Garam masala- 1 tsp
Turmeric powder- 1/2 tsp
Chili powder- 1 tsp
Pepper powder- 1/2 tsp
Crushed chili flakes- a pinch
Salt- to taste
Coconut oil- 3 tsp
Directions:
Wash and clean the liver and marinate it with salt, turmeric, garam and chili powders. Add a pinch of salt a little vinegar too if you have vinegar in stock.
Cook the liver in a pan over low flame. You don't need to add any water these livers cook fast in 5-10 minutes besides you don't want it completely cooked either.
We will be frying the livers further so I would say you can take it off the flame after 5-6 minutes.
Now in a wok heat some coconut oil. Add some curry leave and fry them till crisp. You can take them out now else they will burn.
Into the curry leaf infused oil, add minced shallots and garlic and saute them till they brown.
Now add the chicken livers and crushed chili flakes and fry them till the livers are crisp.
Use medium flame and roast slowly else you will over cook the liver. Garnish with the crisp curry leaves and spicy liver fry is ready.
Footnotes:
Same recipe goes well with mutton liver.
Other Indian Recipes that you may Like !