Kerala Mambazha Pulissery (ripe Mango In Yogurt Gravy)
Mambazha Pulissery is a traditional Kerala dish, which is prepared with ripe mangoes, grated coconut and yogurt. I learned this recipe from my grandmother. In Onam Sadya Malayalees must make this recipe. This Pulissery is really delicious. I will be making a couple of times more before the end of mango season.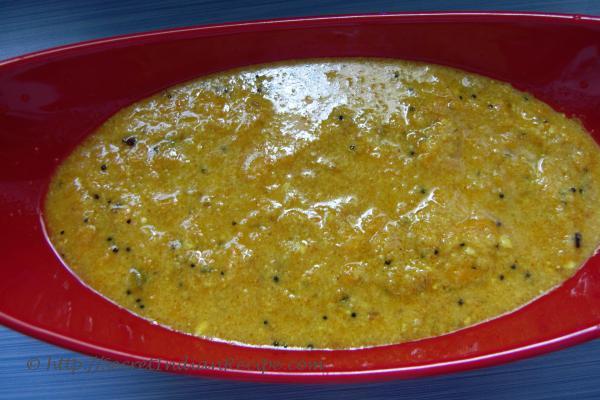 Ingredients:
Ripe mango with thick flesh -2
Grated coconut- 1 cup
Yogurt- 1 cup
Green chilli -3
Turmeric powder- 1 tsp
Red chilli powder 2 tsp
Mustard-1 tsp
Fenugreek -1 tsp
Curry Leaves- few
Dry red chilli -2
Onion-chopped- 1
Directions:
Cut mangoes into pieces. Cook mangoes with green chilli, turmeric powder, water and salt.
Let this boil and then in simmer for 5 to 6 minutes. Grind grated coconut, jeera, onions into coarse paste.
Once the mangoes are cooked add the ground paste and stir well.
Add thick yogurt to above mixture. Stir this under low flame for 2 minutes.
Whisk the curd well and it to the above mixture. Mix well Simmer till gravy starts frothing on the sides.
Heat oil in a pan add mustard seeds, fenugreek seeds, dry red chilli, onion Stir until onion turns brown color.
Pour this tempering over mango gravy.
Boil again for 2 minutes now Mambazha Pulissery is ready to serve.
Footnotes:
When we choose mangoes buy good quality and fresh one.