Kerala Naranga Achaar (lemon Pickle)
Pickle is a traditional condiment used with Indian meals. We all remember our mother's and grandmother's making tasty pickle, when we were small. The taste was awesome and memories will never fade. I learnt this recipe from my Mom. Kerala pickle is pronounced as "Achaar" or "Uppillittathu".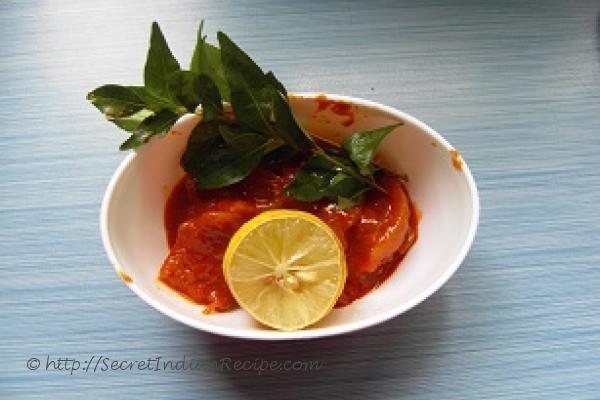 Ingredients:
Lemon - 8 to 10
Gingelly oil - 4 tsp
Garlic - 2or 3 cloves
Vinegar - 1 cup
Turmeric powder-1/4 tsp
Asafoetida powder -1tsp
Fenugreek powder - 1tsp
Green chilli-10
Salt- to taste
Chilli powder -4 tsp
Directions:
Clean, wash and pat dry lemons.
Steam in an steamer or idly vessel for 8 - 10 minutes.
Remove from the fire and take the lemon from steamer.
Let it cool and wipe it with a kitchen towel.
Cut the lemon into pieces. Keep it aside.
Heat oil in a pan and add garlic, green chilli and stir well.
Once garlic turns to brown, add fenugreek powder, asafoetida powder and chilli powder, stir for 2 minutes.
Once the raw smell of chilli powder is gone, add cut lemon pieces and mix well.
Switch off the flame. Add vinegar and salt mix well.
Fill the mix in glass jar.
Keep for 3-4 days before using.
Footnotes:
When we steam lemon, do not overcook.