Kerala Style Chiratta Puttu (coconut Shell Shaped Puttu)
Puttu is a traditional Kerala breakfast. In olden days puttu was made in cut pieces of bamboo shell or in coconut shell. I love making in coconut shell shaped Puttu maker. Puttu is the favourite breakfast dish of Keralites. Traditional puttu is made with rice flour, either the white rice powder or brown rice powder.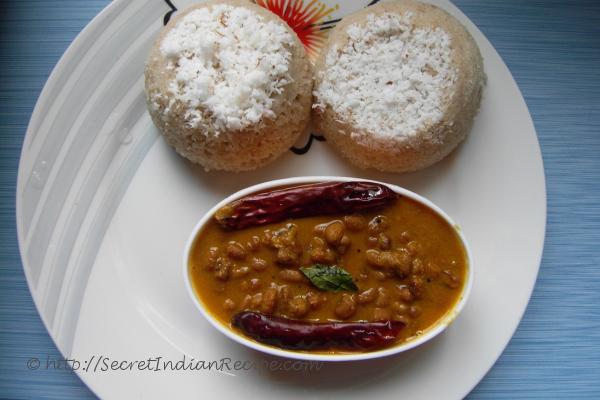 Ingredients:
Rice -2 cup
Grated coconut- 1/2 cup
Salt- as required
Water-1/2 cup
Directions:
Soak the rice for 5 hours.
Drain completely and let it dry for 1 hour or till it is completely dry.
Now grind to a powder. Don't add water.
Now dry roast the flour in low flame, till you get the aroma, stirring continuously so that it will not burn.
Now puttupodi is ready. We can keep this in airtight containers.
When we want to make puttu, take this puttupodi in a bowl and add little salt.
Add water little by little and mix with your hands until it reaches breadcrumbs consistency.
It should be powdery and wet. Cover and let it rest for 10 minutes.
In the mean time we can boil water in pressure cooker or puttu maker.
Add grated coconut to Puttukutty (as much as you like), then add flour, halfway through puttukutty, now add more coconut and fill with rice flour.
And finish it with coconut on the top.
When water starts to boil, close the pressure cooker, remove whistle and place the puttukutty.
Cover and steam for 10-12 minutes.
Now hot delicious puttu is ready to eat.
Footnotes:
We can make put with rice flours and wheat flours.
We have to mix puttu powder in correct consistency; otherwise puttu will not come good.