Kerala Style Nadan Parippu Curry (cooked Lentil With Coconut And Spices)
It's one of the main dish of Onam Sadya. It is a typical Kerala dish. If there is Parippu curry, ghee and pappad, then it's like Onam Sadya for me. I love the smell of ghee drizzled over Parippu. If Parippu curry is made for lunch then extra rice will be made since everybody tends to have more servings of rice with this.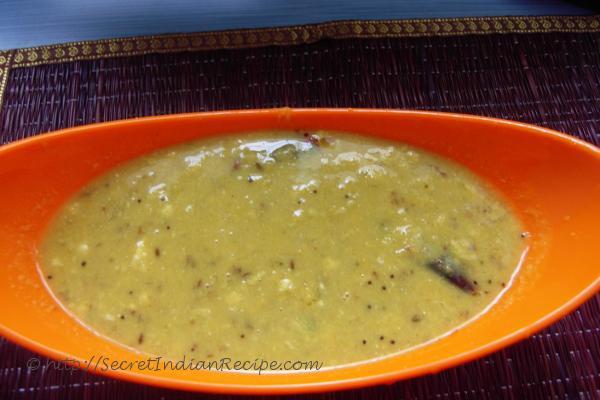 Ingredients:
Toor dal-1/2 cup
Grated coconut- 1/2 cup
Garlic - 2or 3 cloves
Water- 1/2 cup
Coconut oil - 2 table spoon
Cumin seeds -1 tsp
Curry Leaves- Few
Green chilli-4
Salt- to taste
Mustard - 1/2 spoons
Onion-1
Directions:
Pressure cook Toor dal with 1/2 cup of water for 20 to 30 minutes.
Add turmeric powder, green chilli and salt. Cook for 10 minutes or until dal is completely cooked.
Grind coconut into fine paste with cumin seeds, garlic, green chilli and onion.
Add this grounded paste to cooked dal. Mix it well.
Cook again for 2-3 minutes. Switch off the gas.
Heat oil in a pan add mustard seeds. When it starts to splutter, add red chillies and curry leaves, pour it over the Parippu curry.
Serve Parippu curry with rice, ghee and pappad.
Footnotes:
We have to soak toor dal for 5-6 hours before cooking.