Kerala Style Tomato Pickle
Kerala Style Tomato Pickle is a lovely pickle from Kerala. It has a tangy and lovely taste. I got this recipe, from my friend's aunt. Because of this pickle taste, they use to make every month.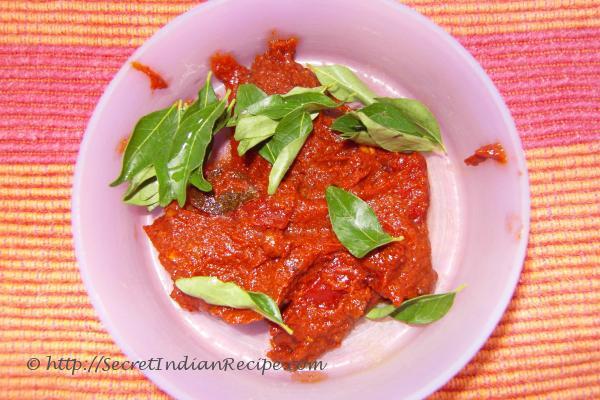 Ingredients:
Tomato- 1/2 kg
Ginger paste- 1 tsp
Garlic paste- 1/2 tsp
Turmeric powder- 1/4 tsp
Chilli powder - 2 tsp
Fennel seeds- 1/2 tsp
Green chilli- 3nos
Curry leaves- few
Coconut oil- 3 tsp
Mustard- 1 tsp
Vinegar- 2 tsp
Directions:
First clean and wash the tomatoes with water.
Cut the tomatoes into small pieces.
Next grind the chillies and curry leaves and keep it aside.
Heat oil in a pan; add mustard seeds when it splutters add ginger garlic paste, fenugreek seeds powder.
Add chilli and curry leaves paste. Stir for a minute. Add chilli powder and turmeric powder again stirs for 2 minutes.
Next we can add tomatoes, salt, vinegar, allow to cooking until the gravy becomes thick.
We can use this pickle for eating dos as and as a side dish for rice.
Footnotes:
If Tomato Pickle is very spicy then we can add little sugar to that.