Kerala Style Velleppam (tradition Kerala Style Appam)
Vellappam is one of the traditional breakfast recipe of the Kerala. This recipe is handed over to me by my mother.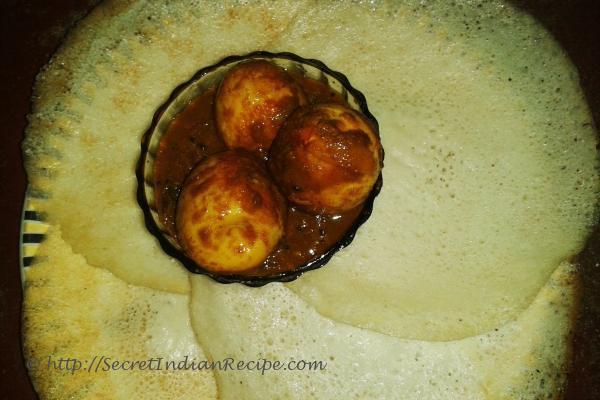 Ingredients:
Raw rice or pachari -500 grams
Grated coconut -1 cup (half of a coconut)
Boiled rice -1/2 cup
Yeast -3 pinch
Water -1, 1/2 cup
Cumin - 1 pinch
Oil -1 tablespoon
Salt -as you need
Directions:
Soak the raw rice for about 4-6 hours.
Then grind the soaked rice, grated coconut, yeast, cumin, boiled rice, and water to make a smooth loose paste.
Keep this mixture aside for about 8-12 hours so that it gets fermented.
Once it gets fermented, add salt to it.
Switch on the stove and place an appam chatti on the stove.
Gently apply oil on the appam chatti.
When the appam chatti is hot, pour one ladle full of the above dough to it and swirl it.
Cover it and cook for about two minutes.
When the appam comes out easily from appam chatti remove it.
Note: Don't cook both the sides. You need to cook only one side.
Footnotes:
This goes best with egg roast and kadala curry.