Kerala Traditional Kootu Curry
Kerala Kootu Curry is a special veggie dish loaded with coconut. If you haven't tasted it then I recommend you to try this, I like the texture of dish. Kootu Curry always gives me a Sadya feeling. It's an important dish in Onam Sadya.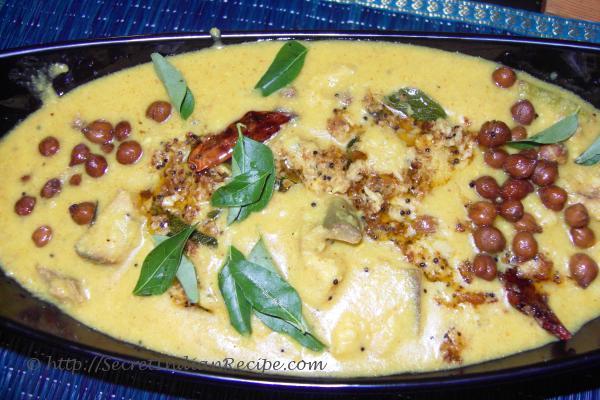 Ingredients:
Kadala (black chana dal) - 1 cup
Chena (yam) diced - 1 cup
Pachakaya (raw plantain) diced- 1 cup
Turmeric powder- 1/4 tsp
Water - 2cup
Grated coconut -3/4 cup
Onions - 5
Green chilli - 4
Chilli powder-2 tsp
Cumin seeds -1 tsp
Dry red chilli- 3
Curry leaves-few
Coconut oil-2tbs
Directions:
For preparing Kootu Curry, pressure cooks the soaked Chana (soaked overnight) for 20 to 30 minutes till it,s done. Keep aside.
Ground together coconut green chilli, onions and cumin seeds to a coarse paste.
Cook together diced yam and raw plantain with 2 cups of water. Add turmeric powder, chili powder and salt.
Bring it to boil and put into simmer till it is cooked and 3/4 of water is dried. Add cooked chana to this and mix well.
Add ground coconut mix to this. Add salt and mix everything together. Cook for 5 minutes.
Heat oil in a pan add mustard, add dry red chilli, curry leaf and grated coconut until it turns golden brown.
Add this tempering to Kootu Curry, stir well and boil for 2 minutes in flame.
Now Kootu Curry is ready to serve.
Footnotes:
We have to soak Kadala over night otherwise it will not cook properly.