Kesar Badaam Thandai
A North Indian cold and refreshing drink with goodness and health of milk and dry fruits !!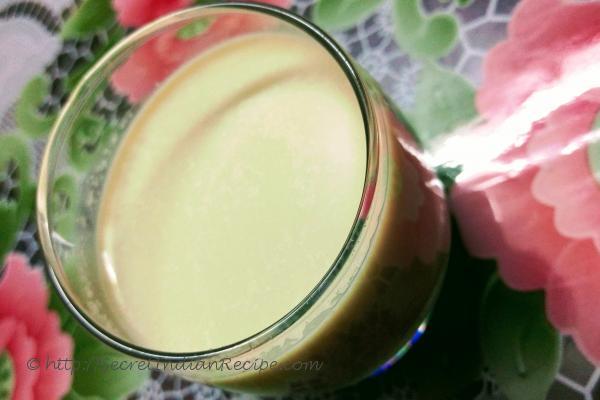 Ingredients:
1. Milk – ½ ltr
2. Fennel seeds (moti saunf) – 5 tbsp
3. Musk melon seeds (meeng) – 2 tbsp
4. Black pepper – 30 pcs
5. White pepper – 10 pcs
6. Almonds – 40 pcs
7. Munakka – 35 pcs
8. Sugar 10-12 tbsp (or as per taste)
9. Cardamom small – 5 pcs
10. Water – 200 ml + for soaking
11. Cloth for straining
Directions:
1. Wash almonds once and soak in water overnight.
2. Wash munakka 3-4 times thoroughly so that no dirt is left and soak it in drinking water overnight.
3. Mix saunf, meeng, black pepper, white pepper and elaichi in a bowl. Soak in drinking water overnight.
4. Next morning, peel off the skin of almonds and transfere it in a separate bowl.
5. Remove the seeds of munakkas and put them back in the same water in which it was soaked.
6. Transfer the munakkas along with its water in a grinder. Add almonds and churn them into a fine paste. Transfer the contents in a bowl.
7. Pour the saunf mixture contents into the grinder, add sugar and turn it into a paste.
8. Take a big vessel and keep the muslin cloth (or any cloth that you are using for straining the contents) covering the vessel. Pour the contents of the grinder in the centre of the cloth and make a potli of it. Then start pressing it softly with your palms so as to strain the smooth mixture down into the vessel. Pour little water in the potli and continue the process 2-3 times.
9. Transfer the remaining contents back in the grinder and using little water again grind it into a paste. Again with the help of muslin cloth follow the similar steps.
10. Once the grinding is done 3-4 times and the above steps are followed every time, there will be nothing left to squeeze out of the material, so you can throw it away.
11. Now you will have a nice milk mixture in the vessel along with required amount of water, which is automatically added while straining the contents. Now add almond and munakka pate in it.
12. Keep the liquid in fridge for few hours.
Thandi thandi THANDAI is ready to be served.
Footnotes:
Add few kesar strands and chopped almonds for garnishing.