Kesar Malai Sandesh
A Bengali delicacy, enjoy the same goodness at your home!!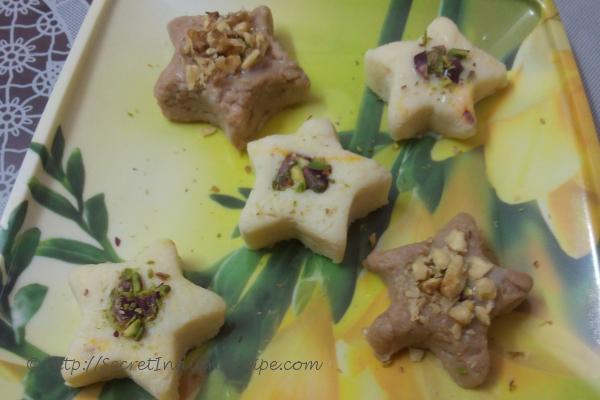 Ingredients:
1. Full cream Buffalo milk – 1 Litre
2. Yogurt (for curdling the milk)
3. Milk -2 tbsp
4. Sugar – 1 tbsp (optional)
5. Cornflour – 1 ½ tbsp
6. Milkmaid (Condensed milk) – ½ cup
7. Saffron (Kesar) – 9-10 threads
8. Elaichi powder – a pinch
9. Vanilla essence – 2 drops
10. Rose water – 5-6 drops
11. Shredded Pistachios/Almonds/Walnuts – for garnishing
Directions:
1. Boil milk in a deep heavy bottom pan. Keep on stirring it continuously so that it does not stick to the bottom and cream does not separate from the milk, as we do not want to lose the malai portion of the sweet.
2. As the milk comes to a boil, lower the flame, add yogurt in small portions until the milk curdles. (Alternatively, lemon or vinegar can even be used for curdling process but then it has to be thoroughly cleaned with water to remove the sourness).
3. Once the water and chena/ whey separates, switch off the flame and keep it for 2 minutes. Then drain out the water with the help of a strainer and place it over a bowl for about half an hour, so that the remaining excess water drains out of it. (Alternatively, muslin cloth can even be used. In this case, it should be hung in such a place where it is easy to drop out the excess water. Only precaution needed here is, do not squeeze it too hard, use light hands and let the water drain out naturally.)
4. After half an hour, squeeze chena with light hands so as to remove any excess water remaining. Our required chenna should neither be too dry or too moist.
5. Transfer chenna in a big plate and add cornflour to it. Mix well and mash the mixture with your fingers and knead it with your palms by mashing and pressing it forward; by taking small quantity at a time. Keep on repeating the process of kneading until it turns into a smooth fine dough. This process normally will take about 15 minutes. Chena is now ready.
6. In a non stick pan add 2tbsp milk and sugar, once sugar dissolves in milk turn the flame to low, then add chena and milkmaid, mix it well. Once this turns into a smooth fine paste, turn the flame to high; keep on stirring it continuously so that the mixture does not stick to the bottom of the pan. Meanwhile add elaichi, kesar and vanilla essence to it and keep on stirring until it turns into a thick mixture. Switch off the flame.
7. Transfer the content in a plate. Let it cool for 5 minutes and add rosewater to it. Mix well. Let it cool for more 15 minutes.
8. Once the mixture is cool and thick, turn it into small balls (or any shape as you like). Place few shredded dryfruits on top of it and press down with light hands, so that dryfruits stick well with the balls. Serve fresh and enjoy .
Footnotes:
This is a perishable dish, consume within 2 days.