Kesaria Gulab Jamun (sweet Dumplings Stuffed With Nuts & Saffron)
We all love Gulab Jamun. This Indian sweet dish is made of khoya, which is shaped into balls and then deep fried in ghee and dipped into sugar syrup.Here is a special kesar (saffron) gulab jamun recipe that has a rich kesar flavor.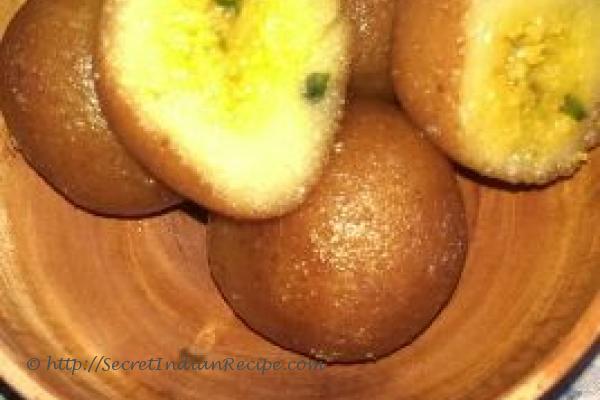 Ingredients:
Khoya - -250 gram
Maida (refined flour) -50 gram
Arrowroot powder -50 gram (or 25 gram cornstarch)
Ghee – 200 ml.
Sugar – 300 gram
Kesar (saffron) – 5-6 strands
Pista (pistachio) – 10 gram
Water - 3 cups + 3 tbsp
Directions:
Grate khoya in a wide pan and mix refined flour, Arrowroot powder and 100 grams of ghee. Knead well.
Take out about a 2 to 4 tbsp of this mixture in another pan and add kesar (soak kesar in tbsp warm milk and use that) and pista. Knead well until it the colour changes to yellow. Make very tiny kesar pista balls out of this mixture and keep aside.
In the first mixture add some water or milk to make dough. Make small dumplings of this dough, make a well in the centre of the dumpling place one kesar pista ball and close edges from top. Repeat the process until all the stuffed gulab jamuns are made.
Make thin sugar syrup (one string consistency) by taking 3 cups of water and add four tablespoon of sugar and boil it. Make another thicker syrup by boiling rest of the sugar in 3 tablespoon of water.
Heat ghee in a karahi and deep fry the balls in very low heat for 5 to 7 minutes, keep shaking the pan lightly in a circular motion to let the Jamuns cook evenly. Then on medium heat for another 3 to 4 minutes more.
Once the gulab jamuns have been fried till nice golden brown, remove and immediately dip them in thin syrup for 10 minutes and then in thick syrup.
Before serving take out the gulab jamuns out of sugar syrup and serve.
Footnotes:
Can be served hot and cold, depending on your preference