Khada Masala Gosht (mutton Cooked With Whole Spices)
Mutton curry cooked in the dum pukht style where the meat is cooked without adding water. Meat gets cooked with its own juices as there is water on the lid. The ingredients inside the pan never burn. Adding tomatoes to this curry is a totally optional step but I do it for flavor.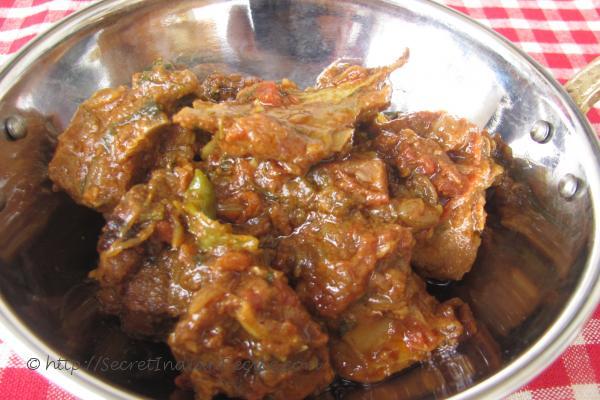 Ingredients:
Mutton- 1kg
Onion- 2
Tomatoes- 3
Ginger- garlic paste- 2 tbsp
Fennel seeds- 1 tsp
Cloves- 6
Cinnamon- 2 inch stick
Green cardamom- 5
Garam masala- 1/2 tsp
Curd- 250 g
Coriander powder- 1 tsp
Coriander leaves- for garnish
Oil- 100 ml
Salt- 1 tsp
Directions:
Heat oil in a pan, add the onions and saute till they brown.
Once the onions brown add the ginger garlic paste, tomatoes, spice powders, whole spices, meat,salt and curd.
Cover with a lid that is 1 cm thick and can hold water. Cook the meat over low flame for 2 hours.
No water is required because the meat will release water; this is the dum phukt style.
After 2 hours if you want to have the curry dry increase the flame and reduce the gravy else garnish with coriander leaves and the curry is ready.
Other Indian Recipes that you may Like !