Khajuri (crispy Flour Discs)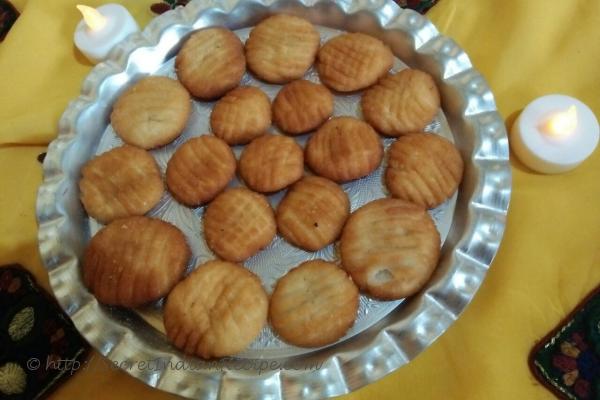 Ingredients:
All purpose flour 4 cup
Powder Sugar 2 cup
Ghee 1/2cup
Samolina 1/2cup
VanillaEssence 3 drops
Oil for frying
Water 1 cup
Directions:
Mix the flour, salt, powder sugar, vanilla essence and samolina.
Add ghee and rub into it.
knead into a stiff dough with the water. Keep aside covered for 15 minutes or so. 
Break into small pieces and roll into rounds. Hold a round in your hand and close your fist, thus forming a slightly grooved shape. 
Deep fry over medium heat and serve hot. You can cool and store in an airtight container.
Khajuri is ready to serve,
Footnotes:
Dough should tight to get crispy Khajuris.