Khamang Kakdi (maharashtrian Cucumber Salad)
A traditional Maharastrian salad recipe with is usually served in lunch time along with rice dal and sabzi.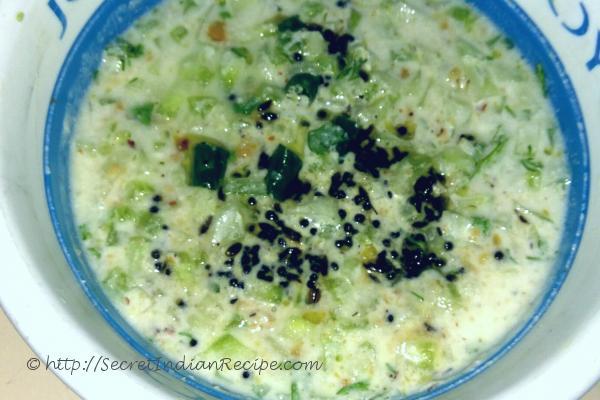 Ingredients:
2 Cucumbers
Green chilies (vary the amount as required),
Coriander leaves – few
4 tsp Peanut powder ,
1 tsp lemon juice,
Salt – as per taste
Sugar(optional) – as per taste
For tempering:
2 teaspoon Cumin seeds
2 tsp Ghee
A pinch of Asafoetida
Directions:
Chop cucumbers finely and rub some salt to the pieces.
After 10 minutes, squeeze with hands to drain the excess water. Keep in a bowl.
Finely chop green chilies.
Now mix sugar, coriander leaves, peanut powder lemon juice and chilies with the cucumber pieces.
In a pan, heat ghee & add cumin seeds. Then add asafoetida and immediately pour this tempering on the prepared cucumber salad and mix.
Serve fresh with puri bhaaji and rice.